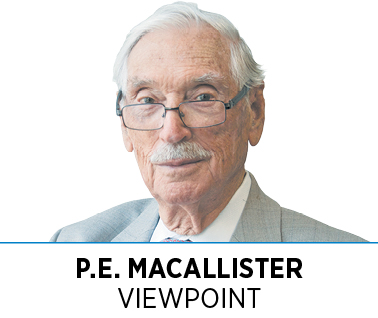 When a guy reaches his 100th birthday, he is inclined to spend more time reflecting on the past than his role shaping it. It has been my great fortune to build a business and raise my family in Indianapolis.
When I was coming of age, Babe Ruth was dominating baseball. Charles Lindbergh was the beau ideal of an American hero, and Boris Karloff and Bela Lugosi were the people nightmares are made of.
Moving to Indianapolis after serving in World War II, my father put me to work in his Caterpillar business. Other than the Indianapolis 500, Indy's reputation was mostly limited to being "the largest inland city not on a navigable waterway."
Hardly a rallying cry for investment, tourism and growth.
There was talent in our midst, a drive to create something better and latent potential for the dynamic growth we've seen the past seven decades.
The story of our transformation has bipartisan authors, but growth was fueled by an outstanding succession of Republican leaders.
The emergence of Keith Bulen as probably the most successful and influential political leader in our state's history created the momentum. Richard Lugar, Bill Hudnut, Beurt SerVaas, John Mutz and Larry Borst were all incredibly gifted and visionary leaders who saw what Indianapolis could be if only there were equal parts boldness and action.
In fact, the mayor's office might be the best incubator of talent I've ever encountered.
Mitch Daniels, Jim Morris, Susan Brooks, Dave Frick, Ryan Vaughn, David Harris and the supremely-missed Michael Carroll are just a few of the people who served their city with smarts and distinction.
I have the great fortune to have been a bit player in so many of the benchmark achievements of the past 50 years. Watching on television the Mayflower trucks pull into the city with the equipment of a professional football team is certainly at the very top of the list.
As president of the Capital Improvement Board during the negotiations with the Irsay family, I didn't play too big of a role (Dave Frick masterfully made our case), but what I personally witnessed was a change of attitude and confidence that mirrored our city's growth.
The idea of Indianapolis as the location of a professional football team was simply laughable not 10 years before.
Hosting a Super Bowl? You're kidding, right?
The only other development that came close to having the same impact was the implementation of Uni-Gov. I'm not sure who first came up with the idea, but then-Mayor Lugar deserves substantial credit. The consolidation of local government was painful to work out and remains incomplete, but it was simply critical as a springboard for the growth that was yet to come.
We can't forget the phenomenal cultural and physical evolution we've experienced as well.
The Parks Foundation—I was present at the creation—has done masterful work in our neighborhoods. The Cultural Trail is a brilliant piece of urban design and execution. It wasn't that long ago that Mass Ave and Fountain Square were rickety eyesores that stymied development.
The tale of Indianapolis' transformation is told best through its people. I have listed some, but many others deserve a tip of the homburg. What we have done best during my lifetime here is come together for causes bigger than ourselves and to provide the energy and purpose needed to perform on the world's stage. For this reason and many others, our fair city should take its own collective bow.•
__________
MacAllister is chairman of MacAllister Machinery Co. Inc. and a longtime leader in Indianapolis Republican politics. Send comments to ibjedit@ibj.com.
Please enable JavaScript to view this content.