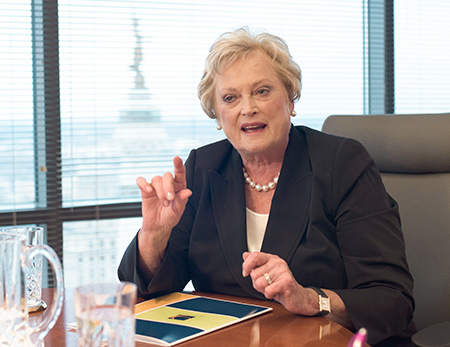 Indianapolis businesswoman and philanthropist Christel DeHaan is stepping down from her role as CEO of the educational not-for-profit she founded in 1998.
Christel House International announced Thursday morning that former Democratic mayor of Indianapolis Bart Peterson will succeed DeHaan as CEO of the organization. DeHaan, 75, will remain board chair.
"Bart is a proven leader with impeccable integrity and a passion for the Christel House mission," DeHaan said in a written statement. "As the first mayor in the country legislatively empowered to authorize charter schools, Bart was a breakthrough leader in education reform, changing the educational landscape in Indianapolis and providing school choice to thousands of children. This took political courage and skill and, as a result, educational opportunities in our city improved significantly."
Christel House operates K-12 schools in high-poverty areas. The organization has two academies and two dropout recovery schools in Indianapolis and five schools internationally. Another school is expected to open in Jamaica next year.
The model created by DeHaan has proven to be successful—98 percent of the students pass exams to graduate from high school, and 91 percent of Christel House graduates either enroll in post-secondary education or become employed.
Peterson, 60, said he had always admired the organization, which DeHaan runs like an international business, and he's only become more impressed the more he has learned.
Peterson retired from his role as senior vice president of corporate affairs and communications at Eli Lilly and Co. in spring 2017. At the time, he told IBJ that he wasn't looking for a job running another enterprise and he didn't want to travel as much.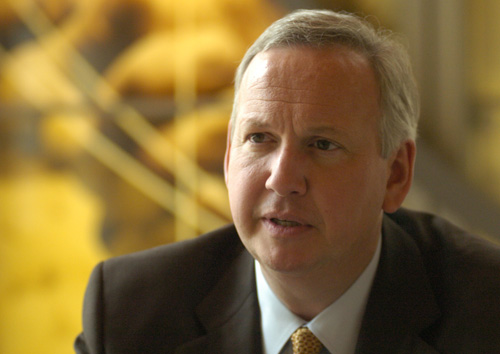 "It's amazing what a sabbatical will do," Peterson told IBJ this week with a laugh. "I was ready to retire back in the spring of 2017… but I also knew if something presented itself that was really, really compelling, I wouldn't hesitate to go back into the workforce."
And he said he's eager to travel again.
Peterson (see image at right), who championed charter schools in Indianapolis during his time as mayor from 2000-2008, said he's excited about the position because he is passionate about education and enjoys improving lives of others.
He said he will focus on continuing the operational excellence of the organization and expanding internationally in a smart way.
"The key for Christel House has been not speed, but when a school is established, it can be successful in the long term," Peterson said.
He said officals have to be strategic, because they don't want to open a school, enroll students and then have to close it.
"That's the worst thing you can do," Peterson said.
DeHaan was a co-founder of Resort Condominiums International and sold the company in 1996 for $825 million. She launched the not-for-profit as a way to end the cycle of poverty by educating and supporting children from kindergarten through high school and at the start of their college years or careers.
Less than two years ago, DeHaan was still actively running the day-to-day operations of the organization and traveling to each school every year. She told IBJ at that time that she knew she needed a succession plan, but she wasn't ready to retire yet. Health considerations have made it more difficult to travel frequently.
Peterson said he's thankful that DeHaan is remaining as board chair, but she will no longer be involved in the day-to-day workload.
"I want to learn from her and benefit from her continued involved in the organization," Peterson said. "She is an iconic figure in business and in education."
DeHaan has covered all administrative costs since the organization started, which she says is a way to make sure money from donors goes directly toward helping children. In 2017, she provided $7.9 million, which accounted for 28 percent of the total revenue.
She told IBJ in 2017 that she has made arrangements to ensure administrative expenses are covered "in perpetuity," and in a statement released Thursday morning, she reiterated that plan.
"As founder, I will continue to support the organization," DeHaan said in the statement. "My financial commitment ensures that 100 percent of donor contributions will go directly to help kids. There is a structure in place to ensure general & administrative and fundraising expenses are covered in perpetuity."
Please enable JavaScript to view this content.