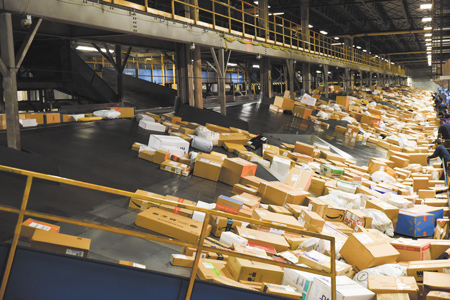 FedEx Corp. is in the early stages of a seven-year, $1.5 billion expansion that will dramatically increase the Indianapolis hub's package-handling capabilities and enlarge its physical footprint at Indianapolis International Airport.
The upgrade and expansion of its 320-acre, 2.5 million-square-foot complex is driven by the need to keep pace with steady growth in e-commerce activity.
Work began last year on the previously-announced project, which is expected to be complete by 2023.
"Right now, our facility can process 99,000 packages per hour," said Robert Brown, senior manager of operations at the Indianapolis hub. In 2023, "at maximum capacity, we'll be up to 147,000 packages per hour."
And FedEx will need more people to handle the increased workload. FedEx says it plans to hire about 800 permanent, full- and part-time employees between now and 2023.
Expansion details
FedEx is already the cargo king in Indianapolis.
According to airport records, 1 million tons of cargo moved through the airport in 2017. FedEx accounted for 98 percent of that volume.
The company's increased capacity will come in two stages. FedEx has already started installing package-handling equipment in a previously constructed building shell. Once that's complete, which should be in 2020, FedEx's package handling capability will increase to 111,000 packages per hour.
FedEx is also adding 16 aircraft gates that will be ready for use by 2020, "and potentially more later to come," said Tina Adams, director of the local hub's day-sort operations.
Other components of the expansion include the construction of several new buildings: two new package-sorting facilities, a new refrigerated building for perishable shipments and a new building to handle truck deliveries.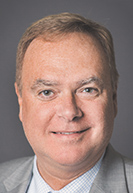 Anderson
Once construction is complete, FedEx's footprint will expand by just more than 51 acres, said Eric Anderson, the Indianapolis Airport Authority's property director.
Regional impact
The presence of a cargo hub brings numerous benefits to a local economy, said Seth Kaplan, managing partner of the aviation industry publication Airline Weekly.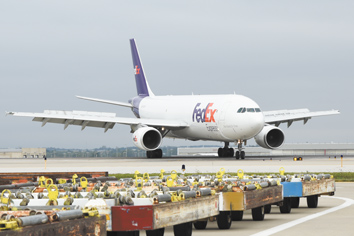 FedEx says it plans to hire about 800 permanent, full- and part-time employees between now and 2023. (IBJ photo/Eric Learned)
"It's helpful in a lot of ways—both for the airport itself … and in terms of stimulating related economic growth," Kaplan said. "It can be a stable source of income for an airport and a way to diversify."
For instance, if an airport's passenger traffic declines, a robust cargo operation can help cushion the blow. That, Kaplan said, has been the case in Memphis, which is FedEx's home base and the site of the company's largest hub.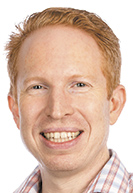 Kaplan
In 2008, Memphis had 5.4 million departing passengers and served as a hub for Northwest Airlines Corp. But Delta Air Lines Inc. acquired Northwest in 2008, and in 2013, Delta announced it would no longer maintain the hub in Memphis. By 2017, Memphis was down to 2.1 million departing passengers for the year.
Because of FedEx's presence, however, cargo operations in Memphis remained strong. In 2008, 3.7 million tons of cargo passed through the airport, ranking it the busiest cargo airport in the world. In 2017, Memphis handled 4.3 million tons of cargo, second only to Hong Kong International Airport.
Indianapolis is in a different situation. It does not serve as a hub for a passenger airline but has seen growth in passenger traffic and air service in recent years. Passenger traffic at the airport has increased annually since 2014. For the first six months of this year, the airport had 2.3 million departing passengers, which is 6.8 percent more than the same period a year earlier.
That said, the Indianapolis airport does enjoy a huge financial impact from FedEx, which is its most-lucrative tenant. In 2017, Anderson said, FedEx paid $2.65 million in hub rent, plus another $199,000 for an aircraft parts warehouse and $116,000 for an aircraft maintenance hangar. FedEx also subleases a second maintenance hangar and pays $80,000 for that space.
FedEx's expansion means that its rent payments will increase to $3.1 million per year by Oct. 1, 2020, Anderson said.
But most of the revenue the airport earns from FedEx comes in the form of landing fees.
Carriers pay landing fees based on the weight of their aircraft and the number of landings they make at a given airport.
Last year, FedEx accounted for 49 percent of the total landed weight at the Indianapolis airport, Anderson said. That means FedEx paid about $9.6 million in landing fees—and that number will increase as flight volume increases.
Keeping rates lower for others

FedEx's presence in Indianapolis helps reduce the landing fees paid by all local carriers, Anderson said.
As the airport prepares its budget, Anderson said, it looks at its projected revenue and expenses for the next year. The gap between revenue and expenses determines what the landing fee will be. And because FedEx is such a large source of revenue for the airport, it helps narrow the gap.
"Just think about if we didn't have that," Anderson said. "The fees to the airlines would increase. Their landing fees would increase."
The airport's current landing fees are $1.85 per 1,000 pounds of gross landed weight for signatory carriers, and $2.78 per 1,000 pounds for non-signatory carriers. FedEx is among the airport's signatory carriers, which account for most of the airport's major commercial carriers.
These fees, Anderson said, are competitive with other airports. "We look pretty good. We're kind of right there in the middle."
Airports have an interest in keeping landing fees in check because lower fees help attract new air service. "It's a part of the decision-making process that an airline does. They compare airport [landing fee] rates," Anderson said.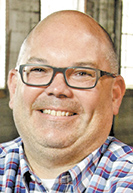 Gigerich
FedEx's Indianapolis hub also helps attract other types of business, said Larry Gigerich, executive managing director for Fishers-based Ginovus, a site selection and consulting firm.
Gigerich said that when he talks with companies that are making decisions about manufacturing- or logistics-based projects, about 80 percent of the time those companies have questions about the FedEx hub.
Being physically close to a large cargo hub is an advantage for companies that do a lot of shipping, Gigerich said, because those companies can deliver their cargo to the hub directly, reducing the shipment's time in transit.
That's especially useful to companies shipping time-sensitive items or high-value-added products like automotive parts, Gigerich said.
"FedEx has done a great job of working with companies to establish a system," Gigerich said. The companies "can call ahead and say, 'Hey, we're bringing this component out.'"
And even in the age of email, Gigerich said, some companies prefer to send physical copies of documents that contain sensitive information. When Ginovus needs to send time-sensitive documents on short notice, the company can take advantage of having a FedEx hub, Gigerich said. "Someone from our team has delivered things there as late as 11 p.m."
Others who benefit from the FedEx hub include the facility's vendors and suppliers, said Tim Cook, CEO of Indianapolis-based KSM Location Advisors, a site-selection and incentives consulting firm.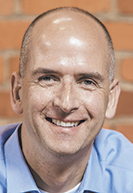 Cook
This includes companies that deliver supplies to the operation, for instance, and the contractors who work on site-expansion projects.
FedEx also has an impact through the personal property taxes it pays and the thousands of full- and part-time workers it employs, Cook said.
"I think, overall, having that FedEx hub there has been a home run for the city," he said.
Looking ahead
FedEx declined to reveal future expansion plans for its Indianapolis hub, beyond the current $1.5 billion expansion.
And Indianapolis is not the only facility in which the company is investing.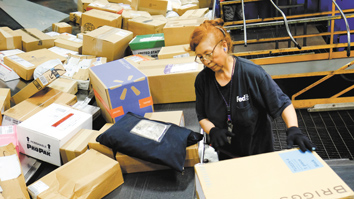 (IBJ photo/Eric Learned)
"Indianapolis is a vital hub in our system, but we are also expanding at other hub locations," FedEx spokesman Jonathan Lyons said in an e-mail. "Our Memphis World Hub is also adding capacity as part of a $1 billion upgrade project planned from 2019 to 2025. We also recently expanded our flight operation at our Greensboro [North Carolina] hub. That is part of the great flexibility of the FedEx network to meet customer demands."
Though FedEx isn't sharing its long-term visions for growth, one analyst says the company has a history of consistent capital expenditures.
Helane Becker, a New York City-based senior research analyst at Cowen Inc., said the company typically spends between 8 and 10 percent of its revenue on capital expenditures and has for many years.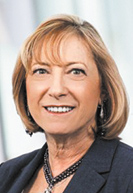 Becker
"Their goal is to just stay in front of growth and make sure that they have the facilities available to grow," Becker said.
FedEx's Memphis hub is land-locked, which limits its future expansion possibilities.
The Indianapolis Airport Authority owns more than 1,000 acres south of I-70, and it's holding the land for future use.
The airport says about 980 of the acres are being held for a future third runway, but it's unknown at this point what land will be available for development after the runway is designed.
Likewise, the airport says no organization has been identified for such development.•
Please enable JavaScript to view this content.