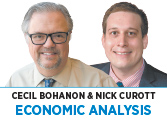 Sears' days are numbered. The once mighty retail behemoth is going extinct. Everyone knows the one-word cause of its demise: Amazon. This is ironic, as Sears got started doing exactly what Amazon is doing now: offering low prices and home delivery. But the larger point is this: In free markets, firms have to serve customers better than their rivals. Otherwise, even the most entrenched firms will fail.
At the turn of the 20th century, about half of America lived on farms. At the small-town general store where farmers shopped, selection was limited and prices were high. Entrepreneurs saw a way to benefit stranded rural consumers. Mail-order catalogs offered rural shoppers a greater variety of goods at lower prices. Sears became the top dog in the competitive mail-order market. As the late Nobel Prize-winning economist George Stigler aptly noted: "Sears, Roebuck and Co. and Montgomery Ward made a good deal of money in the process of improving our rural marketing structure, but I am convinced that they did more for the poor farmers of America than the sum total of the federal agricultural support programs … ."
While farm families welcomed low-cost retail goods, local merchants fumed. Business historian Gordon Weil reports local merchants pressured local newspapers to refuse advertisements from Sears. Local merchants paid a dime for a surrendered mail order catalog. They even resorted to bigoted and racist attacks, circulating rumors that the owners of Sears were black or Jewish. It was to no avail; Sears prospered because it made its customers better off.
During the decades that followed World War I, Americans moved to the suburbs and acquired automobiles. American shopping preferences changed. The automobile made brick-and-mortar stores more convenient. Why wait for the mail when you can have it today? Sears adapted by opening retail outlets, beginning in downtown Evansville, Indiana, in 1925. By the 1970s, Sears was king of the mall culture that defined a generation of shoppers. Sears seemed invincible.
Yet technological innovations opened opportunities for Sears' rivals to offer consumers even better packages of price, quality and selection. Walmart beat Sears on price, Nordstrom on quality and online retailers on selection. Sears did not keep up and is now going bankrupt. Sears is almost gone and now Amazon seems invincible. But Amazon take heed: If you fail the consumer, you too will go extinct.•
__________
Bohanon and Curott are professors of economics at Ball State University. Send comments to ibjedit@ibj.com.
Please enable JavaScript to view this content.