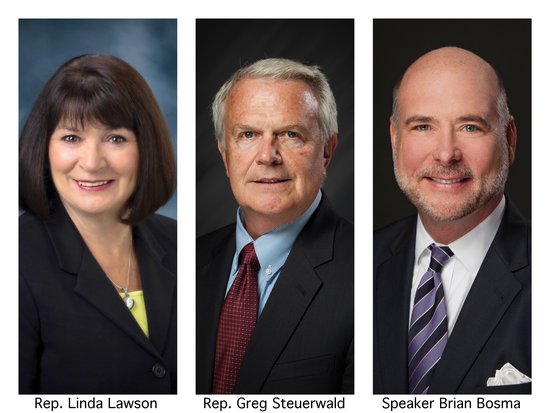 A Democratic state lawmaker has requested an ethics investigation into the recent intimidation allegations made against House Speaker Brian Bosma, R-Indianapolis.
Rep. Linda Lawson, D-Hammond, sent a letter to House Ethics Chairman Greg Steuerwald on Monday requesting that the committee investigate whether Bosma violated House ethics rules "and whether his re-election campaign acted in the 'best interest of the citizens of the state.'"
Bosma has been accused of spending $40,000 in campaign funds to hire attorney Linda Pence of SmithAmundsen, at least in part to investigate and collect negative information about Kandy Green, a former intern for the House Democratic Caucus. Green alleges she and Bosma had a consensual sexual encounter in 1992.
Green has said she and her family felt intimidated by the investigation Pence and her staff were conducting on behalf of Bosma, and the experience motivated her to go public with the story.
Bosma has denied the allegations.
In her letter, Lawson—a former police officer who is retiring from the House after the Nov. 6 election—said that "Hoosiers deserve transparent, accountable government that holds elected officials to the highest standards."
"To maintain Hoosiers' full faith in state government, transparency and accountability may never be applied selectively," Lawson wrote. "No member, not even the chamber's highest-ranking, is above the law. For that reason, I believe it is the Ethics Committee's duty to issue a ruling."
But a hearing is far from guaranteed. Steuerwald is one of 64 Republicans who signed a letter in support of Bosma, an Indianapolis Republican, after the allegations became public earlier this month. And as speaker, Bosma has control over committee assignments and leadership positions, such as Steuerwald's position as chairman of the Ethics Committee.
Indiana Democratic Chairman John Zody has already called on Gov. Eric Holcomb to order an investigation, but Holcomb has said it wouldn't be appropriate for him to comment on the issue until he has an actual report.
On Monday, Zody issued a statement, saying that "accountability has to be more than an empty talking point for Indiana Republicans."
"No matter how powerful or well-connected, no one is above the law and no one gets a pass," he said. "Taxpayers deserve transparency. A thorough and transparent Ethics Committee investigation into Speaker Bosma's conduct is how lawmakers achieve that promise."
Steuerwald and State Rep. Clyde Kersey, vice-chairman of the House Ethics Committee, provided a joint statement to IBJ in response to Lawson's request:
"We have received a copy of State Rep. Linda Lawson's letter," they said in an email. "We are sharing her letter with other members of the House Ethics Committee to review like any other issue that comes before us."
Please enable JavaScript to view this content.