Four women who accuse Indiana Attorney General Curtis Hill of inappropriately touching them are preparing to file a civil lawsuit against him, including an accuser who came forward publicly for the first time on Tuesday.
Hill is accused of drunkenly groping a state lawmaker and three legislative staffers at an Indianapolis bar during a March 15 party to mark the end of the legislative session.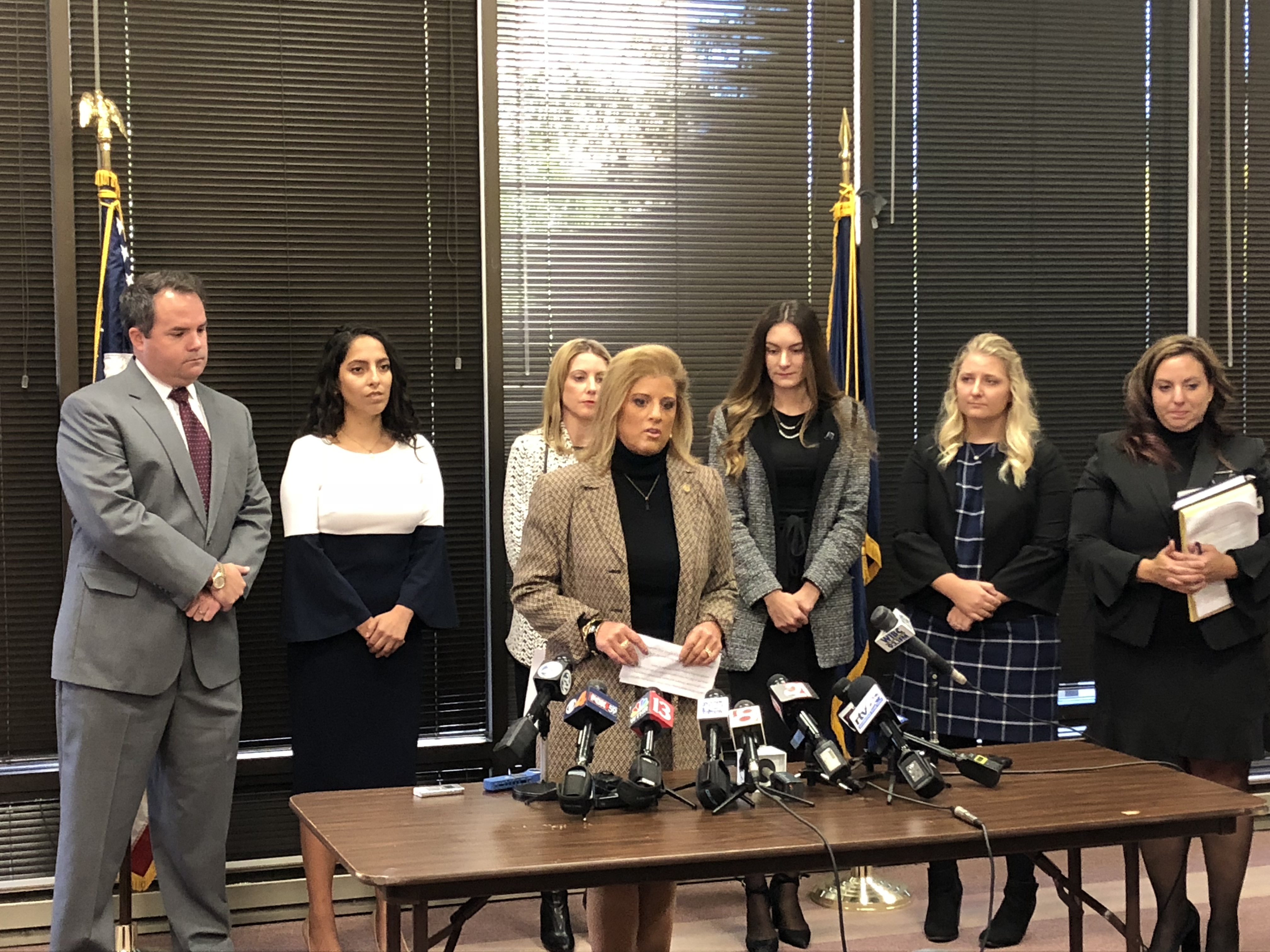 The accusers include Democratic Rep. Mara Candelaria Reardon, Indiana Senate Democrats Communications Director Gabrielle McLemore and Indiana Senate Republicans legislative assistant Niki DaSilva. Indiana House Democrats legislative assistant Samantha Lozano, who had kept her identity confidential previously, added her name to the list Tuesday.
Attorneys with Katz Korin Cunningham, who are representing the four women, told media on Tuesday morning that they have filed a tort claim notice with the state of Indiana and charges of discrimination with the U.S. Equal Employment Opportunity Commission, as legally required before taking the civil action they are considering.
The potential lawsuit could be filed against Hill, the Attorney General's Office and the state of Indiana, attorney Hannah Kaufman Joseph said.
The women are arguing that the state violated Title VII of the Civil Rights Act of 1964 by discriminating against them because of their gender, and retaliated against them for complaining about the discrimination.
The lawsuit was announced minutes after Special Prosecutor Dan Sigler revealed that he will not be pursuing criminal charges against Hill over the incidents.
In his seven-page report filed with Marion County Superior Court 4, Sigler said the most viable criminal charge would have been misdemeanor battery,  but there was "insufficient evidence of Hill's intent to touch the victims in a rude, insolent or angry manner to constitute a battery, and a lack of evidence of force with respect to the statutory requirements of sexual battery."
But Sigler told reporters at a press conference Tuesday morning that he believed the women.
"I did find them to be credible. I did believe them," Sigler said. "But I couldn't meet my burden."
Sigler said 56 witnesses were interviewed by officers with the Inspector General's Office or the Indianapolis Metropolitan Police Department for the investigation.
 
But given that most were drinking alcohol at the party, and they were having to recall details from a night that occurred months prior, it was difficult to obtain clear statements.
 
"We had a lot of varying stories," Sigler said.
 
Hill was not interviewed directly for the investigation. Sigler said Hill provided statements through his lawyers, and in those statements, he did not deny touching the women.
 
"There's disagreement to the extent of it," Sigler said.
 
Hill described the touching as "incidental to conversation or movement in the crowded bar," according to Sigler's report.
 
While AJ's Bar does have video surveillance in place, Sigler said the footage from that night no longer existed by the time the investigation began. He said it's common for establishments to only have 30 days of footage available.
Joseph said they had been preparing the civil claims regardless of the criminal outcome, but decided to announce it Tuesday because of the news from Sigler and the Inspector General's office.
Sigler, a Fort Wayne-based attorney who has mediated more than 3,500 federal and state cases over the last 20 years, was appointed in July to review the state inspector general's findings and determine whether Hill should face criminal charges.
"This encounter has been widely recognized as credible," Joseph said. Sigler and the Inspector General "acknowledged this improper, sexual harassment occurred and that the women's accounts were trustworthy."
The women told reporters they decided to pursue this to set an example for other victims.
"We embark on this journey together to fight for the protection of individuals who deserve to feel safe at their workplace," Reardon said. "The egregious behavior exhibited by Curtis Hill is wholly unacceptable. We can and should do better."
Sigler declined to comment on whether Hill acted inappropriately as a public official, saying he was only tasked with examining whether criminal charges should be filed.
 
"Mr. Hill is a public official and will have to answer to the public he serves for his involvement and behavior in this matter," Sigler wrote in his report. "He is entitled to explain and defend his behavior. I presume he is prepared to do that."
 
The four women have reiterated on Tuesday that they would like him to resign.
Republican Gov. Eric Holcomb and other state GOP leaders have previously called for Hill to resign from office. Indiana Democratic Party Chairman John Zody again called on Hill to resign following Tuesday morning's announcements.
 
"I believe the women and believe Governor Holcomb's statement in July, that there was 'no other option' but for Attorney General Hill to resign, is as appropriate today as it was then," Zody said in a prepared statement. "Elected officials must be held to a higher standard and Hill's actions are disqualifying at any level, let alone as the state's top law enforcement officer. I am hopeful Governor Holcomb will echo his words from July and reaffirm his call for Hill to step aside. Any other action from the governor will serve to underscore a brewing culture of cronyism and corruption at the Statehouse."
 
Holcomb's office did not immediately respond to a request for comment.
As of midday Tuesday, Hill had not publicly addressed the situation, according to The Indiana Lawyer. The AG's office referred requests for comment to his criminal defense team at Voyles Vaina Lukemeyer Baldwin & Webb.
"The Special Prosecutor's investigation exonerates and absolves Mr. Curtis Hill of any factual and legal criminal behavior," read the statement signed by James Voyles and Jennifer Lukemeyer. "We never doubted that Mr. Hill would be cleared of any alleged crimes. … Mr. Hill will continue to serve the people of Indiana in the capacity for which he was elected as the Indiana Attorney General."
Please enable JavaScript to view this content.