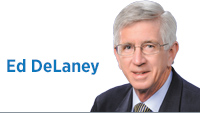 Just imagine that stores and banks stopped issuing credit cards 30 days before Christmas. Or that McDonalds said you could only get a burger at the one location nearest your home. Maybe you could envision that FedEx stopped deliveries and made you go to their warehouse to pick things up.
These things don't happen because these firms recognize that they are in a service industry and want to attract, not turn off, customers.
Now contrast this with the way we are allowed to vote in Indiana. Note the word: "allowed." It fits. We can vote if we do the paper work (register) 30 days before the election. For the most part, we then have to vote at a particular location. That location will often change but there will be one place only. Unless you go through other hoops (called "absentee" voting), you don't get to vote by mail. By the way, forget the concept of "24/7," we have chosen 6 a.m. to 6 p.m. for you. Those were great hours for farmers when we were all farmers.
And while credit card companies never stop offering me credit cards, the state doesn't bother reminding me to vote.
It doesn't have to be this way, especially in the digital age. In other states, you can, or even must, vote by mail. In other states you can register on Election Day. Hours are longer. Registration can be automatic, for example, when you register your car or get a license. You getthe picture.
But wait! These Indiana rules all are aimed at preventing voter fraud, aren't they? That is a solution in search of a problem. More than half of the customers (voters) don't vote. Obviously, they can't commit voter fraud. Similarly, the people who never enter a Target store can't shoplift. But Target is always trying to draw more people in while using sensible protections against theft. Voter fraud is so rare it has seldom been proven anywhere in the country. But it has the advantage of sounding scary, so it is used to justify the burdens imposed on our voters.
Maybe I just don't understand. Maybe the supermajority sees our people as subjects, not participating citizens. That turns the world on its head. The state belongs to us, not vice-versa. The state owes it to us to organize a way for us to express our voices. That is what we do in democracies.
The supermajority loves scoring—just look at ISTEP and the obsession with our surplus. But they are silent as to keeping score on voting. Well, here is a number for you: We came in dead last in voting in 2014. Yes, we came in 51st! Every state and the District of Columbia did better than Indiana. Shouldn't we score our chief election officer, Secretary of State Connie Lawson, for our election performance? If so, an "F" would be the appropriate grade.
I would suggest that this poor performance is not the result of poor citizenship by Hoosiers. Rather, it is the result of a conscious effort on the part of the Indiana Republican Party to depress voter turnout. The second reason is the depressing effect of gerrymandered districts. Gerrymandering makes it difficult to field candidates and discourages voters by making them feel their votes don't count. But that is a topic for another day.
Happily, my political party is working to pass laws to make voting easier. It is also expending enormous resources to drive up turnout. Wouldn't it be nice if the state in turn acted like a service industry and actually tried to increase turnout?•
Click here for more Forefront columns.
__________
DeLaney, an Indianapolis attorney, is a Democrat representing the 86th District in the Indiana House of Representatives. Send comments to ibjedit@ibj.com.
Please enable JavaScript to view this content.