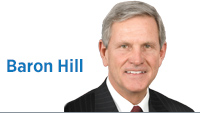 A recent political column written by Eugene Robinson claims that President Trump has taken lying to a new level. The Washington Post reports that the president has lied more than 5,000 times since he has become president. What's really disturbing about it is that the president seems to know he is lying but doesn't care.
Take, for example his claim that U.S. Steel is opening six new plants. When U.S Steel was called to confirm Trump's claim, the company said it wasn't true. So the president doesn't repeat the claim, right? Wrong! He keeps repeating the claim. We can only guess why. Perhaps it is because he has some uncontrollable urge to defend his steel tariffs as the reason for this made-up fantasy.
Now defenders of Trump will say all presidents lie. It's true that LBJ, Nixon and Clinton lied about Vietnam, Watergate and Monica Lewinkski. So what's new here? What's new is that while the press is reporting the lies, the president is indifferent to it. He keeps on lying all the time and on a multitude of issues, no matter how unimportant the subject. Remember the claim of the largest crowd at Trump's inauguration? That false claim set the bar for an endless stream of deception.
To be sure, what one person claims is a lie another can claim it is not. I remember in one of my campaigns for Congress, I claimed in my biography that one of my athletic accomplishments was that I tied the state record in the 100-yard dash. In fact, in 1970, at the regional track meet in Seymour, I ran the 100-yard dash in 9.5 seconds, which tied the state record. But since I ran it in a regional track meet, my political opponent said I was lying. I'll let the readers of this column draw their own conclusions about whether they think that was a lie.
I believe, however, there is a big difference between the Trump claim of six new U.S. Steel plants, which is a bold-face lie, and my claim of tying the state record in the 100-yard dash. And I believe the majority of folks know the difference.
When Trump was elected president in 2016, one of my biggest concerns was that the new president's behavior would become the new norm. I'm not talking about just the lying. I'm also talking about the name calling, the bullying, his racist tendencies, and his treatment of women. I know there are people who say that is just Trump being Trump and we shouldn't take it seriously. But we should take it seriously.
We certainly cannot let the leader of the greatest democracy of all time get by with an endless practice of constant lying. In fact, there was a time when accusing someone of lying was reckless. Now, it has become norm.
Let's not let lying itself become an acceptable norm.•
__________
Hill is a Democrat and former congressman from the 9th District in Southern Indiana. Send comments to ibjedit@ibj.com.
Please enable JavaScript to view this content.