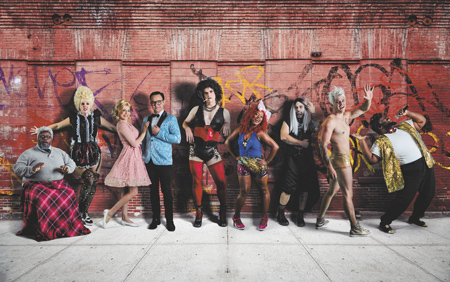 'Tis the season for Hollywood horror movies, whether old-school Frankenstein flicks and next-generation creatures such as Freddy Krueger and Jason Vorhees on your home screen, or more recent horrors ("The Nun," anyone?) at the multiplex.
But it's not just movie theaters that are haunted this time of year. Stages around the city are tilting toward the terrifying and dabbling in the macabre in an effort to create live experiences just as fun—if not more so—than their cinematic counterparts.
So far, Indy doesn't have a breakout, high-profile October hit such as Actors Theatre of Louisville's "Dracula" (as close to undead as a theater production can be after 23 seasons). But it does have two returning horror hits as well as a clawful of other stage frights.
"Cabaret Poe"
Call it "the little horror show that could."
Writer/director/composer Ben Asaykwee has been presenting his theatrical celebration of the stories and poems of Edgar Allan Poe at a variety of venues over the past 10 years, building its reputation—and his—along the way.
His signature show has now landed at Phoenix Theatre, which is offering it to traditional ticket buyers as well as, in a truncated version, to student groups (a first this year).
This time, Asaykwee shares the stage with dancer Rebekah Taylor and actresses Julie Lyn Barber and Jaddy Ciucci alternating in one multi-character part as well as Renae Stone and Georgeanna Smith Wade taking turns in another. If you still get creeped out by a one-word-spouting raven or the prospect of getting walled into your basement, this might be the show for you. Through Nov. 4 at Phoenix Theatre.
"The Rocky Horror Show"
Like "Cabaret Poe," "The Rocky Horror Show" started small. Little did its creators know in London back in 1973 that their campy stage musical would transform into a midnight movie hit—complete with audience callbacks, flying toast and dancing in the aisles to "The Time Warp."
Zach & Zack, the enterprising local impresarios behind such theatrical highlights from previous seasons as "The Great Bike Race" and "Hedwig and the Angry Inch," have a long history with the show. Most recently, they staged "Rocky Horror" in 2014 in a production noted for its outstanding video work, top-notch band and spirited performances. This time, amid a largely fresh cast, Dave Ruark, who played the Narrator last time, graduates to Frank N Furter, the famed "sweet transvestite from transsexual Transylvania."
For the uninitiated (or, in the parlance of the show, "virgins"), the outrageous homage to cinematic horror concerns a visitor from outer space, a couple with car trouble, a creature wearing next to nothing, and lots of singing and dancing.
Be warned: Audiences are encouraged to sit back and enjoy this one rather than be toast-throwing, line-shouting participants in the action. Through Nov. 3 at the Athenaeum.
"The (White) House of Horrors"
Candlelight Theatre, the performing-arts arm of the Benjamin Harrison Presidential Site, offers a chiller from Resident Playwright James Trofatter. Don't worry about your seats for this show: The action takes place all over the home, which makes this a fun excuse to visit the historic spot, especially if you haven't since grade school.
Oh, and, regarding the title: Keep your political comments to yourself. Through Oct. 28 at the Benjamin Harrison Presidential Site.
"Slightly Haunted Puppet Studio"
And why should adults have all the Halloween theatrical fun? Peewinkle's Puppet Studio offers a seasonal production for the younger set. There's a witch, a vampire and a zombie in the mix, but don't expect anything too intense. Bonus: Popcorn is free with your ticket purchase. Through Oct. 28 at the Indiana State Museum.
__________
Harry's latest play, "Popular Monsters," is having its premiere at Irvington Lodge via Catalyst Repertory Theatre. It runs through Nov. 4.
 
Please enable JavaScript to view this content.