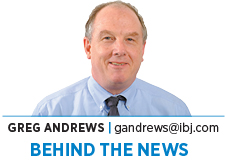 Lids Sports Group is the last locally based retailer that's part of a public company following the demise last year of appliance retailer HHGregg Inc. and the $558 million sale in June of The Finish Line Inc. to British sportswear retailer JD Sports.
Unfortunately, there's plenty of reason to fret about its future as well, even though the cap retailer moved into a beautiful new $22 million headquarters in Zionsville just two years ago.
That's because its parent company, Nashville, Tennessee-based retail conglomerate Genesco Inc., put the business up for sale way back in February and has yet to announce a deal. Genesco won't elaborate on the process, but Wall Street analysts believe that if there were an abundance of eager suitors with open wallets, one would have signed a deal by now.
Making matters worse, since Genesco put Lids on the block, its long-running decline has continued—fueled in part by the lack of a hot cap-fashion trend to drive sales and in part by competitive pressures as more hat sales move online.
Lids has a respectable e-commerce business, thanks to hefty investments in its shipping and warehousing capabilities, including installing a robotic order-picking system that has shrunk order turnaround time.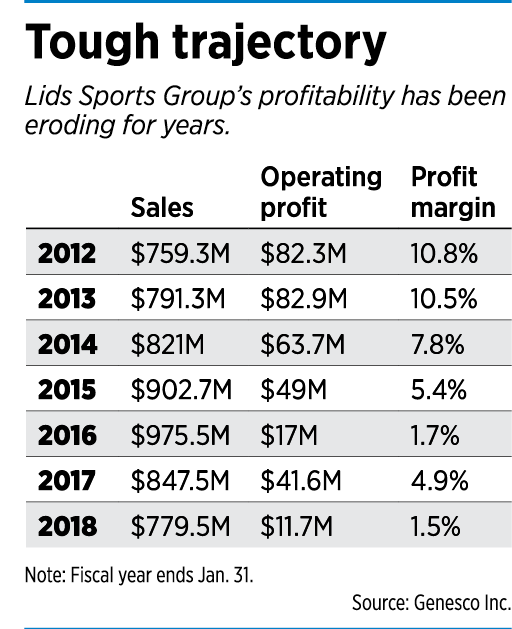 Yet it doesn't have the scale, relationships or vertical integration enjoyed by the No. 1 online retailer of fan gear, Jacksonville, Florida-based Fanatics Inc. The company—which makes and markets merchandise for top sports leagues globally—zoomed past $2 billion in sales last year. It also scored a $1 billion investment from the Japanese conglomerate SoftBank Group that swelled its valuation to $4.5 billion.
By comparison, analysts early this year estimated Lids might fetch as little as $60 million or as much as $250 million. That outlook has dimmed further as Lids' performance has continued to erode.
In the latest fiscal year, which ended in January, Lids earned a mere $11.7 million on $779.5 million in sales, which works out to a profit margin of just 1.5 percent. As recently as 2013, its profit margin topped 10 percent, and as recently as 2016, sales approached $1 billion.
Lids has been whittling down costs and closing underperforming stores, shrinking its store count to 1,125, a 9 percent reduction since the beginning of 2017. Even so, in the six months ended Aug. 4, Lids saw a 6 percent drop in same-store sales and lost $4.2 million.
Because Lids sales account for nearly 30 percent of Genesco's sales, the bad news is continuing to cast a cloud over Genesco, which otherwise is seeing a lot of success. For instance, in the latest quarter, its Johnston & Murphy shoe unit posted an 8 percent same-store-sales gain, and its teen-oriented Journeys unit recorded a 10 percent increase.
At the CL King & Associates Best Ideas Conference last month, Genesco CEO Robert Dennis characterized Lids as an awkward fit for a company that derives three-quarters of its sales from footwear.
Steven Marotta, a senior analyst with CL King, early this year speculated that Fanatics would buy Lids—giving it a brick-and-mortar presence to complement its online business.
But analysts now say that if that were going to happen, it probably would have by now. Fanatics officials did not respond to IBJ's requests for comment.
Beyond Fanatics, analysts see few other prospective buyers—since the industry has no other major players that would come to the table with competitive advantages to help Lids compete against heavyweights like Fanatics and Amazon.
Even so, analysts are eager to see the drawn-out sale process wrap up.
"I could certainly see benefits to Genesco by focusing specifically on the footwear side and lowering its exposure to what seems like a structurally challenged business," Marotta said in an interview with IBJ.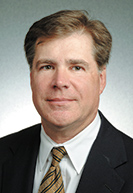 Dennis
At the CL King conference, Dennis said "we have made progress" on the possible sale of Lids and have "narrowed our options." But he wouldn't put a timeline on reaching a decision and left open the possibility Genesco would retain ownership.
"I will just remind you all that, when we announced the process, we said that this is not something we are just going to sell at all costs," he said at the conference. "We are going to be very disciplined in what we look at in terms of what kind of returns we could get versus what kind of returns we might get from selling it."
He said cost-cutting efforts will boost Lids' performance even if a turnaround fails to materialize. And if one does, sales could surge.
"What we're missing right now is … that headwear trend, which can really make the business sing," Dennis said.
But at the Yahoo Finance All Markets Summit last month, Fanatics founder Michael Rubin said the halcyon days are never coming back for retailers that sell but don't produce their own products.
"Amazon and Alibaba are changing retail for everybody," he said of the two e-commerce giants. "It's really simple: If you do the same thing, if you sell products that are similar to what Amazon and Alibaba are selling, you're dead. You are not going to survive."•
Please enable JavaScript to view this content.