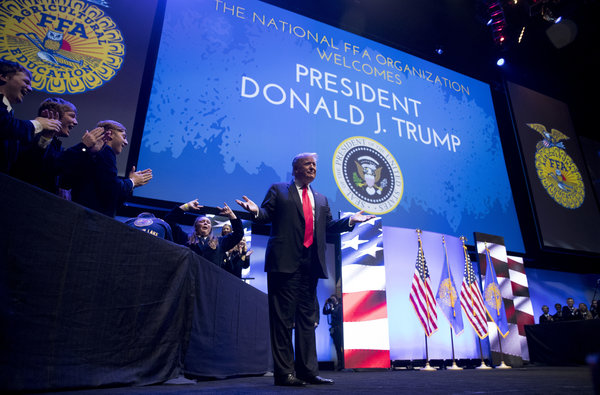 President Donald Trump wasn't in Indiana for a political rally, but he still campaigned for a couple of Indiana Republicans on Saturday.
During his remarks at the National FFA Convention and Expo at Bankers Life Fieldhouse, Trump called U.S. Reps. Trey Hollingsworth and Jim Banks onto the stage and praised both of them. The crowd was filled with FFA members, their parents and FFA staff from across the country, but there was a section of the audience from Indiana.
"These guys fight for the farmers," Trump said.
Both congressmen briefly addressed the crowd and talked about how they enjoy working with Trump.
"Please get out and vote for them," Trump said. "I'm not even going to mention their opponents."
Hollingsworth is running for re-election in Indiana's 9th Congressional District against Democrat Liz Watson, and Banks is running for re-election in Indiana's 3rd Congressional District against Democrat Courtney Tritch.
Political observers have pointed to the 9th District as one that could flip this year, even though it still leans Republican. The 3rd District is also expected to be a safe seat for the GOP, but Tritch has raised more money than Banks for the past two quarters. Watson also out-raised Hollingsworth in the third quarter.
The rest of Trump's speech, which was expected to last only 30 minutes but took more than an hour, mostly focused on trade deals. Trump told the crowd that his policies have and will continue to make conditions better for farmers.
"We're in a trade dispute," Trump said. "But you know what, we're going to win, because we always win."
He said his administration is opening new markets for exports, eliminating job-killing regulations, ending oppressive federal intrusions and cutting taxes for farmers. He also talked about the recently negotiated United States-Mexico-Canada Agreement that's expected to replace the North American Free Trade Agreement.
One policy that brought a standing ovation for was the changes to the estate tax that was included in the federal tax bill last year.
"It's so unfair. You have a farm, you work hard for so many years," Trump said. "All of a sudden, something happens, and you get tremendous taxes… You don't have to worry about it anymore."
The tax bill did not eliminate the estate tax, but it doubled the exemption from $5 million to $10 million until 2025.
"You have no idea how important the farm and the farmers are," Trump said. "People tend to take things for granted, you're truly great and important people."
Trump also briefly mentioned his recent move to make E15 ethanol available year-round, a factor credited for Friday's announcement that a $160 million biofuels plant will be built in Shelbyville.
Trump started his speech by addressing the shooting in Pittsburgh, where a gunman opened fire at a synagogue during a Saturday morning service. At least 11 people were killed and more were injured, including police officers, according to news reports. Police had a suspect in custody by late Saturday morning.
Trump called it a "wicked act of mass murder."
"There must be no tolerance for anti-Semitism anywhere in America," Trump said.
Trump spoke to Pittsburgh Mayor Bill Peduto and Pennsylvania Gov. Tom Wolf before he arrived in Indianapolis. Also, while traveling to Indianapolis on Air Force One, he arranged for a rabbi and pastor to join him on stage at Bankers Life to say prayers.
"We mourn for the unthinkable loss of life that happened today," Trump said.
Trump also suggested the suspect in the Pittsburgh shooting receive the death penalty and that the death penalty process should be sped up.
"It has to go much quicker," Trump said. "Not 10 years of legal wrangling."
After the rally, Trump was headed to a rally in Illinois. He had considered canceling it in light of the Pittsburgh shooting, but told the FFA crowd that he decided not to do that.
"We can't let evil change our life and change our schedule," Trump said. "We can't do that."
Trump ended the speech by telling the FFA members that they will help "make America great again." The crowd roared and gave him a standing ovation.
"The greatest and most important days for the American farmers are yet to come, and you're going to take us there," Trump said.
Please enable JavaScript to view this content.