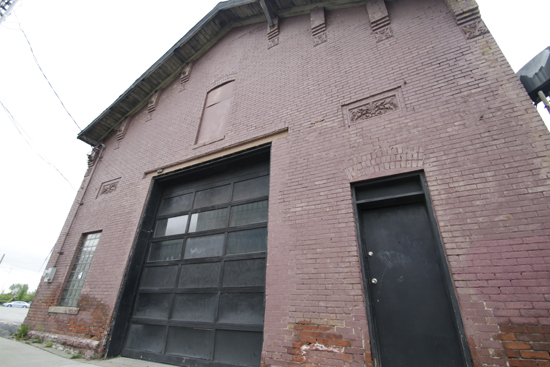 Taxman Brewing Co., which has operations in both Bargersville and Fortville, plans to open a third restaurant and bar—in the second phase of CityWay now under construction in downtown Indianapolis.
The bar and restaurant is set to occupy the 19th-century former livery building, which until recently sat near the corner of Delaware and South streets. CityWay's developer, Indianapolis-based Buckingham Cos., moved the building about 300 feet to the north earlier this year to make way for a CVS Pharmacy.
Taxman expects to begin buildout of the structure and construction on an addition to begin in March, with the goal of opening in the fall of 2019. 
The existing 2,400-square-foot building will be expanded by another 1,400 square feet for kitchen and entryway space, putting the finished structure at about 3,800 square feet, Taxman President and co-owner Nathan Huelsebusch told IBJ.
Huelsebusch said the business plans to preserve as much of the historic building as possible, including its exposed bricks and original wood rafters. The building dates to the mid-1800s.
"I think that we're going to stick with a lot of those elements that we couldn't get in a new building," Huelsebusch told IBJ.
Plans also call for the construction of a 3,000-square-foot pet-friendly patio, with its own outdoor bar. About 1,400 square feet of the patio will be covered and have outdoor heating elements. "We'll probably be able to use that space eight or nine months out of the year," Huelsebusch said.
The establishment will have seating for 130 people inside and 200 outside, with family-friendly areas in both spaces. 
Menu items will include burgers made with locally produced beef, seasonal sandwiches, as well as Belgian-style fries and Liege waffles. Taxman will offer 16 of its beers on tap, along with wine and cider.
As is the case at Taxman's other two eateries, the beer will be brought in from the company's Bargersville brewery.
Buckingham Cos. started construction earlier this year on its $135 million expansion of CityWay. The project will add 400 apartment units, along with new buildings along Delaware and Virginia streets that will add nearly 29,000 square feet of retail space and 19,000 square feet of office space. 
The $155 million first phase of CityWay, which was complete in January 2013, included 250 apartments, the Alexander boutique hotel, 40,000 square feet of retail space and the Irsay Family YMCA at CityWay.
Huelsebusch and his wife, Leah, launched Taxman Brewing in Bargersville in 2014 along with Matt Rogers and Brian Fisk. More recently Nathan's sister and brother-in-law, Kirby and Colin McCloy, have also joined as partners. 
A second Taxman restaurant/bar opened last year in Fortville, in Hancock County.
 
Please enable JavaScript to view this content.