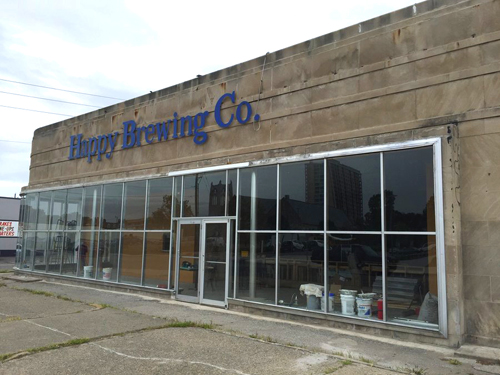 A brewery and restaurant that hoped to be part of the revitalization of the south end of the Butler-Tarkington neighborhood has closed after only seven months in business.
Happy Brewing Co., 3902 N. Illinois St., quietly closed last month, citing "unexpected circumstances" for the decision.
"Due to entirely unexpected circumstances, we have to move our brewery to another location," the brewery posted on Facebook on Oct. 28. "We don't know where the new location will be. Everything is going into storage while we look."
A message left with business owner Gabriel Soukup was not returned Monday morning.
Happy Brewing Co. took over a former Double 8 Foods store across from Tarkington Park, just north of 38th Street. A $6 million renovation of the park was completed last year.
Tedd Grain, executive director of Local Initiatives Support Corp., a community investment group that works to resuscitate urban Indianapolis neighborhoods, said Soukup likely couldn't overcome the financial challenges posed by the ambitious project.
Soukup leased the building in March 2016 from an affiliate of Double 8 Foods—which shut down all of its stores in 2015—but he didn't open for business until March 2018. That means he dealt with two years of lease payments without revenue.
The area has been targeted by the Great Places 2020 initiative, led by LISC. The program funnels private-sector investments into neglected areas, including the area around 38th and Illinois known as Maple Crossing.
Soukup received a façade grant from LISC's Small Business Facade and Property Improvement Program, and also received low-interest financing from Midtown Indy Inc. a not-for-profit community development organization, to help with the build out.
Park West at Maple Crossing, an affiliate of Midtown Indy, bought the building from Double 8 Realty LLC for $482,000 in December, in part to alleviate pressure on Soukup by restructuring his lease.
Michael McKillip, executive director of Midtown Indy, said Soukup confronted a whole range of challenges related to electrical, plumbing and HVAC systems in the building.
"Anyone familiar with a Double 8 grocery could see there were many decades of deferred basis on any of the Double 8 buildings," McKillip said. "I think they made a gallant effort."
He said another challenge was that the 17,176-square-foot building was unusually large for a retail tenant.
Midtown has put the building on the market for sale or lease. Potential users include restaurants, light manufacturing, and artist spaces.
The building opened in 1938 as the Hoster-Hiser Ford and Lincoln-Zephyr dealership. The dealership was a three-level operation, with cars stored on the concrete roof, a showroom on the first floor and service in the basement. The nearly one-acre property has more than 80 parking spaces.
Midtown has seen strong interest in the space, which could be divided up, McKillip said.
McKillip said the community strongly wants a user that can serve as a place for residents of the neighborhood to congregate and interact with the park. One possibility would be to have a restaurant tenant that would use the concrete roof for rooftop dining.
Happy Brewing Co. got its start in Daleville in 2013. In 2014, it announced plans to open a brewery, pub and eatery at Interstate 69 and Indiana 67. It eventually moved those plans to Indianapolis.
"We will still be working on recipes, brewing new and great beers," the business said in its Facebook post. "This is our dream and our passion. We appreciated all the local support and hopefully you will visit us at our new place once we reopen."
Please enable JavaScript to view this content.