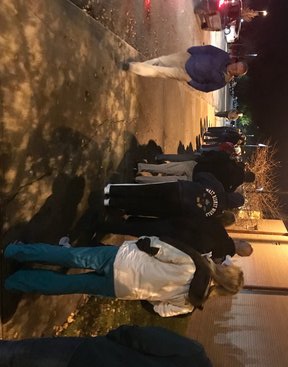 Voters in Indiana and across the country head to the polls today to determine which party will control Congress and hold dozens of state and local elected offices—although thousands more voters than usual have already cast a ballot.
In Indiana, Democratic U.S. Sen. Joe Donnelly has been locked in a tight re-election battle against two challengers: Republican Mike Braun and Libertarian Lucy Brenton. The latest polls showed Donnelly up slightly, but still within the margins of error. 
More than $100 million has been spent by the candidates and outside groups on the race, one of the most closely watched in the nation.
Most of Indiana's U.S. House seats are expected to be safe for incumbents, but political analysts are watching the 9th District race between Republican incumbent Rep. Trey Hollingsworth and Democratic challenger Liz Watson as well as the 2nd District race between Republican incumbent Rep. Jackie Walorski and Democratic challenger Mel Hall.
Voter turnout is expected to play a big role in which party prevails in state and national races. Early voting has been significantly higher in Indiana this year than in the last midterm election in 2014—and in some cases even the presidential election year of 2016.
In Marion County, more than 83,000 people voted early this fall, some waiting hours in line to cast ballots. Early voting was up 22 percent from two years ago, when Donald Trump and Hillary Clinton were on the ballot.
The county added six satellite early-voting sites this year, which is credited in part with driving the increase. That makes turnout today somewhat unpredictable and means it is really as much the final day to vote as it is Election Day. The polls are open until 6 p.m. today.
At the Cool Creek Nature Center in Hamilton County, about 100 voters were lined up to vote at 6:30 Tuesday morning, but the line was moving quickly.
The two precincts that vote at Garfield Park in Indianapolis had short lines when the polls opened at 6 a.m., but they had cleared by about 6:30.
India Hammond arrived at the Garfield Park polling place just after 6 with her 11-year-old daughter, Amani, in tow. India had a tight schedule—she needed to drop her daughter off at school and be at work at Lowe's by 7:15. 
But she said she would never missing voting—and wanted her daughter to see the process.
"As a woman and an African-American, I know I wouldn't have always had the opportunity to vote," Hammond said. "So I make sure I vote every election."
In Lawrence Township, voters at the City of Lawrence Fire Station No. 37 were delayed by about 50 minutes when poll workers from one of the precincts at the site stopped the line at 6:45 a.m. to count absentee ballots. Precinct workers acknowledged they had not counted the absentee ballots before polls opened. Several would-be voters left the site before voting resumed about 7:35.
While Indiana's Senate race has received heavy national media coverage, some races have been viewed as so uncompetitive that they have received only modest attention inside the state.
In Indiana's 4th and 6th congressional districts, which are both open seats, Republicans are expected to win easily.
Vice President Mike Pence's older brother, Greg Pence, is the Republican candidate in the 6th District, a seat currently held by Luke Messer, who lost in the GOP Senate primary. Pence is running against Democrat Jeannine Lee Lake of Muncie.
Todd Rokita is currently the congressman in the 4th District, but he did not seek re-election, choosing instead to run in the GOP Senate primary, where he lost to Braun. Republican Jim Baird, a state representative, is facing Democrat Tobi Beck.
U.S. Rep. Andre Carson is expected to easily win re-election in his 7th District seat against Republican challenger Wayne Harmon. Democrats have held the seat since 2003.
And U.S. Rep. Susan Brooks, running for re-election in the 5th District, is expected to defeat Democrat Dee Thornton.
Indiana voters also face a ballot question about an amendment to the Indiana Constitution that would put restrictions on state spending. And voters in Indianapolis Public Schools are facing two questions about additional spending in the district.
Please enable JavaScript to view this content.