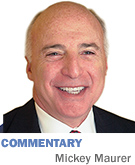 As an old-timer, I am honored when asked for business advice. Because so much of the labor force has been idled,
recent inquiries have come from Hoosiers with resumes in hand. I am afraid my usual advice isn't working, so I have
some new ideas—new opportunities to investigate in the face of this job crisis.
Go green—at Indy Parks.
Don't let the grass grow under your feet. Mow it. With the modest investment in a lawn mower, you have an annuity. According
to this newspaper, Indy Parks is downsizing and outsourcing in an effort to meet tight budget restraints imposed by Mayor
Ballard. Good idea.
Run for office. It's surprising how much money you can raise by hitting up those of us
who still have jobs. Don't waste money on brochures and yard signs. Concentrate on food and travel. Beseech your friends
to underwrite fund-raising dinners and fun events. All you need is a smile and a handshake.
Run for Congress,
run for the Legislature, run for mayor, just keep running and living high. In fact, it may be better to run and lose so you
can run again. A big exception is Indiana's 5th Congressional District. Win that seat and you can play lots of golf,
miss votes, and otherwise act the buffoon. Your constituency won't even notice. Actually, perhaps the 5th District voters
will notice that finally a few qualified candidates are running in the Republican primary—good choices for desperately
needed change.
Move to Alaska where the governor's office is up for grabs. Shoot helpless moose for sport.
Sport? Support a movement where the heterosexual conservative Christians are the only true citizens of America. Preach creationism—forget
science. Keep a close eye on Russia—invasion could come at anytime. When your misdeeds begin to catch up with you, simply
resign with impunity. Has anyone failed to realize that this joke on us was almost elected vice president of our country?
Work for the government handing out checks at the unemployment office. Traffic is up. Ensure job security by advising
the Washington economic brain trust, "Don't change a thing." The longer the unemployment line, the more
hours you will get paid to work.
Join the Securities and Exchange Commission and relax. Practice looking the other
way. The big cheaters in this country can take billions from investors and all you have to do is say, "Oops."
Madoff ran his scheme for 20 years. Nobody is that smart. As for the SEC, nobody can be that stupid. According to The
Wall Street Journal, Robert Khuzami, the SEC's director of enforcement, and John Walsh, the acting director of
the agency's examination group, in joint written testimony said, "Stated simply, in this case we failed in our
fundamental mission to protect investors, and we must continue vigorously to reform the way we operate." Continue? There
should be two job openings at the SEC immediately.
Tattoo your entire body and grab a ball. Learn how to either
dribble it, kick it, throw it, or carry it once or twice a week. Fame awaits you. You will make big money and win the adoration
of many fans. You can interact with them and perform the other half of your responsibility—fathering children.
Take a seat at the microphone and become an AM radio shock jock. Raise hell, severely criticize anyone who doesn't
share your opinion, go through a messy divorce, lambaste addicts but be an abuser yourself, and still make millions of dollars.
If you don't like any of my other ideas and if you enjoy fresh air and good exercise, borrow a headscarf
and an eye patch and become a Somali pirate. It can get dicey once in a while, but there is big money in it and the community
of civilized nations will let you get away with murder. •
__________
Maurer is a shareholder
in IBJ Corp., which owns Indianapolis Business Journal. His column appears every other week. To comment on this column, send
e-mail to mmaurer@ibj.com.
Please enable JavaScript to view this content.