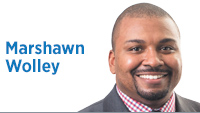 Will Sen.-elect Mike Braun have a better relationship with the black community than Sen. Joe Donnelly did? By all accounts, Donnelly is a nice, hard-working and decent guy. He did the work of maintaining relationships with the black community. He showed up at our events and attended our churches. He is no stranger to black leaders throughout Indiana. He had a staff person responsible for African-American outreach.
Nevertheless, black leadership rightly asked, where was the senior-level representation at the policy level on his team? In other words, our issues didn't seem to be a priority on his agenda.
This year, an African-American was the Democratic candidate for auditor and recently an African-American was elected as floor leader of the Democratic Caucus in the House of Representatives. These and other steps toward inclusivity have come as the Indiana Democratic Party realizes representational diversity is tokenism. The black community is changing, and the expectation is full inclusion in a party that relies on our community for political support.
Younger black voters don't consider themselves part of any "base," which might signal a problem for turnout in the future. Inclusion—the idea that people of color are included formally (title, authority, responsibility and salary) in positions of leadership in offices and institutions seems to be an opportunity for both parties.
I'm a black young progressive, and the way the Republican Party treats my community is shocking and offensive. The Indiana Republican Party has some representational diversity, but rather ignominiously and ironically ignores the black community, which is actually socially conservative.
With rare exception, Republicans do not show up at our events or churches. It's as if Republicans wait for an invitation, instead of simply asking to come to our events to listen to our concerns, or better yet, just showing up. We have to extend invitations, and responses are, slow, tepid and calculating. We've also noted that black elected officials don't seem to be part of the GOP club, which is a whole other column. Braun, when asked about diversity of his campaign staff, pivoted to colorblindness—in other words, he didn't have much.
But Braun is now the federal representative in a state where only a quarter of black children in lower grades passed the ISTEP. While state standardized test scores are only one tool for assessing student proficiency, will he seek to make sure federal provisions in the Every Student Succeeds Act address achievement gaps?
Indiana has ranked in the top 10 nationally for black male homicides for nearly a decade. Will he champion law enforcement that values both the civil rights of our community and the lives of black victims? Will he see the moral imperative in reforming a criminal justice system that produces racial disparities for the same crime in both incarceration rates and sentencing?
Will he champion policies that address significant and persistent racial disparities in health outcomes for black people who have access to health care but receive disparate quality care?
The black middle class in Indiana is not small, but our economic realities are different from the larger community, due to a legacy of government policies harming our community. Will he get that? Will it matter that 6.2 percent unemployment in our community can still feel like tough times? Does he understand that even two-parent households can still be poor with both parents working full time? A black senior-level policy adviser would help articulate these issues and the policies that would benefit everyone.
At an African-American Coalition of Indianapolis forum, Braun asked that our community give him a chance. We are counting on him and Sen. Todd Young to give our community a chance in many policy areas.•
Click here for more Forefront columns.
__________
Wolley is a lecturer at the School of Public and Environmental Affairs at IUPUI. Send comments to [email protected]
Please enable JavaScript to view this content.