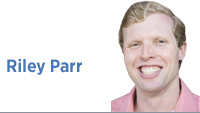 Not too long ago, a friend and I sat waiting for class to begin. Somehow we got on the topic of how challenging it can be, particularly in law and government, to build coalitions among people who have vastly different viewpoints and take wildly distinct approaches to achieve the same basic goals.
I commented that one way to solve that dilemma is to change how an issue is framed depending upon the audience. My friend didn't much like my proposed remedy; she thought, ultimately, that meant lying. I disagreed then, and I disagree now.
I'm certainly not advocating for a spin on former President Clinton's infamous, "It depends on what the meaning of the word 'is' is." Rather, I'd like to think that this very un-novel proposal is rooted in something my dad told me close to 20 years ago after I undoubtedly said something you'd expect from an 8-year-old: "Riley, it's not always what you say, but how you say it."
Coincidentally, or perhaps not, this nugget of wisdom bears some striking resemblance with another aphorism I discussed several months ago: "You can disagree without being disagreeable."
Particularly for those right of center, successfully convincing the electorate of the benefits of conservative policies often depends on how an issue is presented. Indeed, on many issues, liberals have the advantage that the "let the government take care of it" mantra is easily understandable. It's easy to digest and comprehend.
The fallacy of many liberal policies, though, lies in what economist Thomas Sowell calls "stage-one" thinking: On their face, the $15-per-hour minimum wage, Medicaid-for-all, and policies of similar ilk have some superficial appeal—at least, until you stop and think about the actual long-term ramifications and unintended consequences.
Sometimes, and maybe oftentimes, it takes years, many years, for the public to experience the full effects of policies that expand government power at the expense of individual freedom.
Lincoln Steffens, a muckraking journalist in the early 20th century, remarked multiple times over the course of his life, "I have seen the future, and it works." He was speaking of the Soviet Union and its commitment to state-sponsored communism. Officially, the Soviet Union lasted from 1922 until 1991. But Steffens never saw its collapse: He died in 1936—some 55 years before the fall of the Soviet Union.
The corollary to the fact that it often takes years for the effects of liberal policies to fully manifest is that, once government expands into a segment of life, it keeps growing. Of course, for the committed progressive, that means more government is required because society is not achieving perfection quickly enough. And so the problem compounds. That's probably why Ronald Reagan said the closest thing to eternal life on Earth is a government program.
As a result, advocating for a more free society—one that focuses on individual freedom and upward mobility—is daunting enough without the added burdens of bad or ill-conceived communication. Too often, for instance, conservatives use the phrase, "The market will take care of it." But, consider the impact of that statement on somebody struggling to make ends meet. Then consider what progressives offer. The same pattern repeats itself on other issues.
Even after the election, Republicans remain largely in power. But as the Democratic Party moves further to the left, the GOP must be able to succinctly articulate conservative ideals and principles in a way that gives people optimism and hope for a freer and stronger America.•
__________
Parr is a student at the Indiana University Robert H. McKinney School of Law in Indianapolis and is treasurer of the Indiana Young Republicans. Send comments to [email protected]
Please enable JavaScript to view this content.