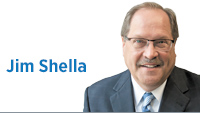 The 2018 election was the first one in 42 years that I didn't cover as a reporter.
My first day as a professional journalist was Nov. 1, 1976, and the next day was Election Day. If you don't remember, that was the day Jimmy Carter was elected president. I was working at a TV station in Cedar Rapids, Iowa, and took part in interviews that night with both of Iowa's U.S. senators, John Culver and Dick Clark. You might say I was hooked.
Yet, when I look back on my career, it's generally the campaign reporting I remember fondly and not so much the coverage on election night.
Some people in the newsroom would occasionally refer to election night as Christmas because of all the "gifts" in the form of interesting stories to cover.
I always thought it was more like New Year's Eve. Noted drinker Ed McMahon said he didn't like New Year's Eve because it's "amateur night." A lot of people who couldn't or shouldn't be drinking were out in public doing so.
On election night, a lot of reporters who couldn't or shouldn't cover politics are out doing so. Election night coverage is always focused on breadth rather than depth. Local TV stations try to show how many races they can cover, how many live shots they can produce, and how many reporters they can showcase. They race to see who can report the first, mostly meaningless, results.
The coverage is meant to be a promotional tool, a way to show off resources.
It always looks good in the image spots that appear afterward. But in the meantime, you generally encounter a lot of misinformation and faulty analysis, no matter which channel you watch.
It's no different at the networks and cable channels. This year, CNN displayed a map that showed Indiana labeled as Kentucky and Kentucky labeled as Indiana. MSNBC showed a map with Utah labeled as Nevada. Because of the emphasis on graphics and breaking news, I saw meaningful analysis interrupted frequently so producers could display a slide showing the outcome of a race that meant little in the big picture.
And, as it turned out, there weren't many news gifts this year. In Indiana, Democrat incumbent Joe Donnelly was unseated by Mike Braun in the U.S. Senate race, and GOP state Sen. Mike Delph lost his election to J.D. Ford, who becomes the first openly gay member of the Indiana General Assembly. Those were the only takeaways.
At the national level, the Democrats won control of the House of Representatives and Republicans retained the Senate. That's enough information for two graphics.
The problem lies not with those who present the news, however. They are reacting to viewers who have little interest in politics until election time arrives. The failures on election night are the result of a lack of coverage in the weeks and months leading up to it because of a fear that viewers will change the channel.
I am still amazed that so many Americans fail to vote, and the relatively heavy turnout in the midterms did nothing to change that.
With the Russians and the Chinese trying to sway the outcomes in our elections and politicians battling over who can and who can't vote, every Election Day is a special day. We need to understand that democracy cannot be taken for granted.
So, if TV stations seek overblown, misdirected coverage, that's OK.
It will get better if the public demands it.•
Click here for more Forefront columns.
__________
Shella hosted WFYI's "Indiana Week in Review" for 25 years and covered Indiana politics for WISH-TV for more than three decades. Send comments to ibjedit@ibj.com.
Please enable JavaScript to view this content.