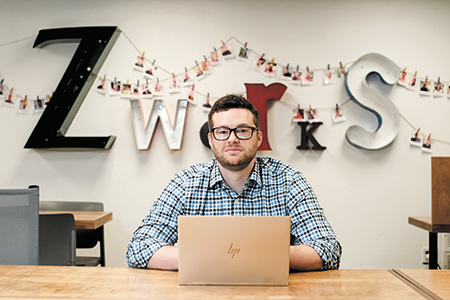 Matt Phillips of Zionsville spent 13 years working in retail before leaving the corporate world to launch his own online retailer last year.
Parker Gwen, an ode to his children's names, is the culmination of time Phillips spent working for Best Buy, Groupon Goods and HH Gregg. And it's a response to what he believes is largely missing from today's shopping experience: a one-stop shop for all the products that fill your home.
His online store sells a curated selection of home products, ranging from smart-home devices to furniture. Now, Phillips and Tiffanie Morrison of Crown Point—a former co-worker he brought into the business—are preparing for Parker Gwen's second holiday shopping season, one in which they plan to increase sales fivefold.
During 2018's fourth quarter, Phillips anticipates his company will make more than $600,000 in sales, compared to $100,000 during the last three months of 2017. The increased revenue would put the co-owners in a good place to hire their first employees soon, up to seven team members, Phillips said.
The company's growth comes even though Parker Gwen has no warehouses and owns no inventory. Phillips and Morrison—who continue to live in separate cities—never touch the merchandise.
But they join a growing number of startup retailers who do business by serving as a sort of expert middle man between companies that make and distribute products and the customers trying to find them.
It's a risky business, but Jim Okamura, a partner at Chicago-based retail consultant McMillanDoolittle, said Parker Gwen might be offering the kind of convenience customers are looking for.
The online store targets women ages 35-45 (based on the research that women make a majority of the home-related purchasing and style decisions) with what Phillips calls a full "home experience." In today's retail scene, few stores sell furniture and decor while also offering TVs, audio equipment and smart-home devices, such as the Ring doorbell or the Amazon Echo, Phillips said.
Best Buy, for example, sells a plethora of home entertainment products, but shoppers won't find a couch there. Similarly, Pottery Barn has home decor and furniture but not TVs and audio equipment.
"There isn't anyone that stands for that full home experience," he said. "Furniture stores struggle to understand how to integrate home electronics into a room, but that is extremely important for creating a living space. … Electronics stores don't have the expertise to coordinate a room design."
Parker Gwen can fill that void in the marketplace, he said.
"It's not just about having a great accent chair or the right sofa," he said. "It's also about having the right technology within your home."
Okamura said few retailers offer "that full range" of products that Parker Gwen does.
"I have no doubt there is a need there," he said. "That there's kind of a gap in the market."
But he can't predict whether customers will trust the entire look and feel of their home to one provider, he added.
Customer service
Phillips is trying to set Parker Gwen apart by providing excellent customer service. Interacting with customers is what Phillips loves most about retail, and he said those relationships have been lost as retail has moved online.
Parker Gwen is "the online experience but with the customer in mind," he said.
Phillips and Morrison handle everything from delivery issues to questions about bringing an entire room together.
Recently, a potential customer commented on one of Parker Gwen's Instagram posts, inquiring whether a coffee table and accent chair in the photo would complement a couch she already owns. That's the kind of question Phillips and Morrison want to specialize in answering.
"It's not just a transaction," Morrison said. "We're really trying to ensure what you buy is what you get, and that you absolutely, 100 percent love it from the time you order to the time of delivery and you actually start using it."
Parker Gwen has no headquarters. Phillips mostly works from an office in his home but this year was awarded a membership to Zionsville's co-working space, ZWorks, by the Boone County Economic Development Corp. Morrison works from her home in Crown Point.
Before launching Parker Gwen last year, Phillips spent a year at HH Gregg as senior vice president of merchandising, trying to help save the company from going under.
When the company announced in April 2017 that it was shutting down, Phillips didn't want to have to move his family from Zionsville for a new job. They'd only been there a year and liked their neighborhood and school.
So he called on his entrepreneurial spirit and his experience in consumer electronics to launch Parker Gwen. He called Morrison—with whom he had spent two years commuting from northwestern Indiana to Chicago for work at Groupon—to ask if she'd be interested in helping him. They had spent many hours in the car talking about their passion for retail, all the changes the industry had undergone, and what was missing.
She agreed to join his team.
"We're just trying to put our touch of magic on something we're really passionate about," Morrison said.
The company launched to family and friends in September 2017 and officially opened for business two months later.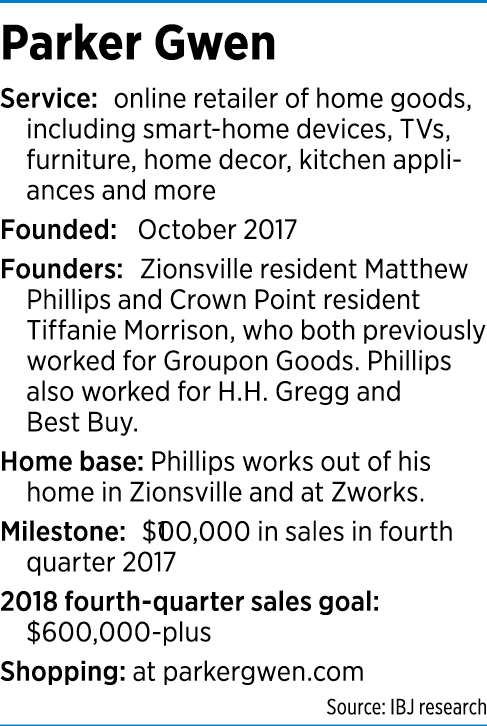 A curated experience
Phillips and Morrison choose every one of the products sold at Parker Gwen.
The company works with 26 to 28 suppliers across its product categories. Phillips and Morrison established some of those relationships in their previous careers and have established others at trade shows, including the High Point Market furniture show in High Point, North Carolina.
Once the pair finds products they want to feature on the site, they set up contracts with those vendors. But Parker Gwen never purchases the products.
Instead, when a customer buys something at parkergwen.com, the company sends a purchase order to the supplier, which has a few days to fulfill the order. Morrison then works with the customer and shipping companies to arrange for delivery and set-up, if necessary.
Phillips said the website is designed to offer shoppers a curated shopping experience, meaning they can shop by style (modern farmhouse or midcentury modern, for example) or search individually for a product. Either way, users won't be overwhelmed by results, Phillips said.
For example, when searching for a leather sofa, the site returns just 56 results. A more specific search yields even fewer.
Larger retailers offer a much wider range of products (at Amazon.com, for example, the same search leads to more than 1,800 options), but the quality is uneven and unpredictable, Phillips said.
Offering fewer products, then tracking reviews and returns, allows Phillips and Morrison to determine which products fall short of customer expectations.
"We're filtering out the noise so a consumer can feel more confident purchasing from us and knowing they're going to get a great product," he said.
The future
With the holidays just a few weeks away, all of Phillips' and Morrison's attention is focused on having a successful Christmas season.
But once January comes, they hope to be in a place to grow the business.
Phillips said he already has seven positions in mind he'd like to add. And he's already started talking with venture capitalists and angel investors to earn the funding to take the business to the next level.
Okamura, who leads McMillanDoolitte's digital strategy practice, said that, because Parker Gwen's whole-house product lineup is a unique concept and because many of today's young shoppers are comfortable purchasing furniture and more online, Parker Gwen would probably appeal to them.
But to grow the business, Parker Gwen will have to amass a good number of reviews that show it consistently executes its brand promises, he said.
Morrison said the reviews (130 so far) already posted to the company's website show that, even when customers aren't 100 percent happy with a product—one reviewer received a product in poor condition but left a raving review about Parker Gwen's efforts to quickly send a replacement—they're pleased with the customer service.
While all of Parker Gwen's business is currently based online, Phillips hopes to eventually open "experience centers" in major markets where customers can test products before purchasing them.
Ultimately, he hopes to make Parker Gwen an omnichannel experience, he said.
"Our five-year plan is a big plan," Phillips said.•
Please enable JavaScript to view this content.