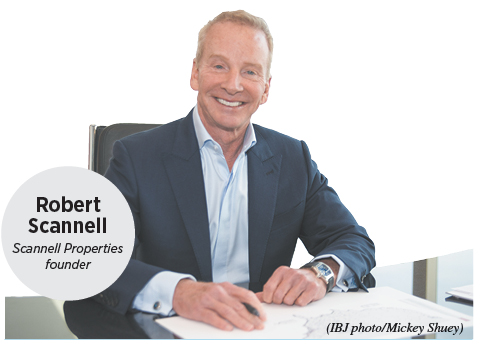 The founder of an Indianapolis-based real estate company has high hopes for expanding into markets beyond North America, starting with a slew of European countries in which he hopes to launch new projects in the coming year.
Robert Scannell, 66, founded Scannell Properties in 1990, following his departure from Duke Realty the same year. His company focuses on industrial and warehousing real estate across the United States and Canada and employs at least 70 people.
He said his company has overseen more than 200 projects to date, which include build-to-suit and speculative properties.
When you got into real estate in 1982, it was a bit of a different time for Indianapolis. How have you seen the market change over 36 years?
There were far fewer institutional players then versus what there are now. Now, there are a lot of real estate investment trusts. The size of projects have changed dramatically, too, in the last few years—basically brought on by e-commerce. It's changed how products are bought and how they're delivered to the end customer. Back in those days, a 250,000- to 300,000-square-foot building was a big industrial building. Now, we'd almost call that a midsize structure. Buildings of 1 million square feet are not uncommon anymore.
How have you had to adapt to the way business is done now?
You certainly have to be more creative … in looking for ways to differentiate yourself. We're always trying to find ways to do that—anticipating where our users want to be located, evaluating how we invest our own capital. … We've done very few joint ventures, and that's unusual for private companies like ours. The majority of our own projects are all self-financed.
In what ways are the dynamics of the European real estate market different from what's found in the U.S.?
Indianapolis in particular is sort of a middle market in the U.S. It has steady growth, but not spectacular growth. It's a great distribution center—it always has been—because of its location near the middle of the country, plus the interstate system.
In Europe, the big difference not so much from Indianapolis but the U.S. as a whole is that they're probably two or three years behind the U.S. in terms of the percentage of retail sales that are e-commerce. It's increasing dramatically there. Each market we're looking at in Europe is very distinct. We're looking at six different countries over there [Germany, Netherlands, France, Italy, United Kingdom and Spain], and they're really six different markets. The cost … varies greatly by country, which is much different than in the United States, because here it's the same wherever you go, by and large.
What role does U.K.'s exit from the European Union play in your plans for the European market?
It's extremely important and I think it's still unknown the impact it's going to have on values. It's anybody's guess at this point, but you have to take it into consideration. For us, it's big: What's it going to do to demand? That's one of the big things. It could impact the flow of goods, logistically, between U.K. and continental Europe. But the bigger thing is the flow of capital.
Why not wait to proceed until negotiations for Brexit have been finalized?
If the right labor conditions exist, we feel we can make good decisions about where we should build and what we should build. I think in the end, whatever happens with Brexit, if we have good fundamentals, our investment will be OK.•
Please enable JavaScript to view this content.