Should the White House be permitted to take action against a reporter that frustrates the president?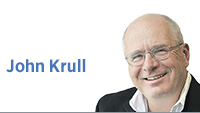 Lawyers have a saying: "Bad cases make bad law."
That may be what the dispute between President Donald Trump and CNN's Jim Acosta may give us.
Bad law.
For those who do not pay much attention to politics these days—lucky you—here's what happened.
Trump and Acosta had a verbal altercation at a press conference. The president called the CNN reporter "a rude, terrible person" when Acosta tried to ask a question. Trump or his staff tried to have a female intern take Acosta's microphone away. Acosta refused to let go.
The White House then revoked Acosta's White House press credentials and released a doctored and discredited video to justify the action. CNN and Acosta sued.
Federal District Judge Timothy Kelly, a Trump appointee, granted the news network and the journalist a temporary restraining order that reinstates Acosta as a member of the White House press corps.
The Trump administration has promised to fight on—and vowed that Acosta's ban will be permanent once the restraining order expires.
Thank goodness this all is happening when there's nothing else important—like, say, wild fires scorching Southern California, a jittery stock market and a potential international crisis regarding the Saudi royal family's likely complicity in cold-blooded murder—going on that might command a serious president's attention.
But, then, Donald Trump isn't that guy.
No, he's Donald Trump.
And Donald Trump loves silly fights.
He uses these absurd dust-ups to energize his base. He also relies on them to distract everyone else from paying attention to the fact that huge slices of important real estate and the Americans who own them literally are on fire, the stock market is doing a good imitation of a roller coaster and his close friends and perhaps business associates in the Saudi government now have been caught in more lies than Joe Isuzu. (Google the name and you'll get the joke.)
For Trump, it's a game.
He cares only about winning, not what price the country has to pay for his victory.
The pity is that too many journalists, including Acosta, end up playing along.
They match Trump's peevishness with their own. When they do, they grant plausibility to Trump's nonsensical charges that journalists are out to get him, that they are, in fact, "the enemy of the people."
That doesn't mean Trump is in the right here. He isn't.
No elected official—not even the president of the United States—gets to decide which reporters cover him and which ones don't.
But, by trading pugnacities with Trump, Acosta clouded the issue.
Perhaps that's why the judge who granted the restraining order didn't do so on First Amendment grounds. Instead, Kelly said the White House violated Acosta's Fifth Amendment due process rights by kicking him out.
Thus, thanks to the intemperance of the president and the reporter who covers him, we have a First Amendment case being decided, for the moment, on Fifth Amendment grounds.
Confusing?
Yup.
Bad cases.
Bad law.•
Click here for more Forefront columns.
__________
Krull directs Franklin College's Pulliam School of Journalism, hosts the news program "No Limits" on WFYI-FM 90.1, and is executive director of The Statehouse File. Send comments to ibjedit@ibj.com.
Please enable JavaScript to view this content.