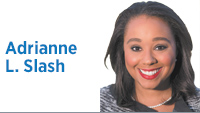 Now that we've made it through the midterm elections, it's time to clear the air a bit.
Starting in 2017 and intensifying in 2018, as a black woman with moderately conservative views, I have gotten a lot of questions about how I can remain a conservative in these times.
I'd like to clarify what is really being asked here: "How can you be black and align with a party that is aligning itself with hate, all the while leading a civil rights organization and carrying the banner for social justice. Just how?"
My answer and that of many others in my position is, "I believe in smaller, limited government and fiscal conservatism." If it were only so simple.
People of color who carry baseline conservative values, who are engaged and following the shifts and swings of the country, are finding themselves without a party. This is a real problem. The parties have made their way so far to the extremes that the talking figureheads have turned off people like me. I can't align myself with hate and shouldn't be asked to.
It's interesting to be in rooms where people are doing just that, without realizing that I have been asked to forget that I am a woman—and a woman of color at that. By continuing to allow political talking-figureheads to go unchecked on their views, treatment and actions toward women and people of color, my party pushes me closer and closer to the outer orbit—yet, I'm not a liberal nor a Democrat, so where does that leave me?
Millennials value diversity and community. I align with my generation very well here. I was raised in a time that the browning of America really got going. We live in a time where there is a great deal of scholarly work on that topic and in a place where we know that some of these United States will begin to see their communities of color outnumber their current majority populations.
We need our parties to accept that and progressively move on. The only way forward is denouncing hate and people who use hate speech (dog whistles included), and put forward leaders who accept that the world is changing and we are better for it. If it could only be that simple.
The way forward pragmatically is up to elected officials, hopeful future elected officials and the party. True patriotism is acting on behalf of the best interest of the country and its people. When elected by the people (and for the people), it is your job to represent the people who sent you there and their interests—not the interests of your party. Yep, you heard that right—my inner millennial crying out again. We were taught this way and believe it to be true. As a generation, we will hold our elected officials to that.
Representation also matters. If I know the city of Indianapolis is not monolithic, why would I accept its leadership's being monolithic? Municipal elections are upon us in November 2019. Local parties have an opportunity to present us with candidates who will lead on behalf of their residents.
The landscape has changed quite a bit since 2015. We (millennials) have become a much more engaged and active part of the electorate. My plea on behalf of myself (and many in my generation) is that we accept societal changes and for each party to present us the candidates of today and not hold on to what is no more.•
Click here for more Forefront columns.
__________
Slash is a diversity and inclusion consultant in the health care industry and is president of The Exchange at the Indianapolis Urban League.Send comments to ibjedit@ibj.com.
Please enable JavaScript to view this content.