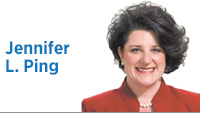 What did we really learn from Election Day?
We learned that the only poll that matters is held Election Day, no matter how many other polls were conducted or how much money was spent on them.
Scores of resources were exhausted by national news organizations, local media outlets and political parties to assess who was going to win Indiana's U.S. Senate race—and most of the resulting polls were not just off the mark a little, they were flat wrong.
Just days before the election, polls showed incumbent U.S. Sen. Joe Donnelly winning by as much as eight points, while others had Republican challenger Mike Braun ahead by as few as two points.
I was asked by both family and co-workers who I thought would win. The answer was easy: Braun.
I did not say Braun just because I am a Republican. I predicted Braun would win because I saw the natural outpouring of support for him, combined with the well-organized Republican get-out-the-vote effort across the state.
During the last few weeks before Election Day, I visited cities in northern Indiana (Elkhart, South Bend and Munster) and southern Indiana (Nashville, Jasper and Evansville). In those cities, I would ask local shop clerks, servers at restaurants and anyone else willing to speak with me about the race, and the majority would say they were voting for Braun. Some commented that they had met him on the campaign trail, but most had not.
I think politicos rely too heavily on polling. 2018 reminded me of a quote by President Abraham Lincoln explaining how to track voters.
"The whole state must be so well organized that every Whig can be brought to the polls. So, divide the county into small districts and appoint in each a committee. Make a perfect list of the voters and ascertain with certainty for whom they will vote… . Keep a constant watch on the doubtful voters and have them talked to by those in whom they have the most confidence … . On Election Day, see that every Whig is brought to the polls."
Lincoln simply defined the role of a precinct committee person. Both major political parties use elected and appointed precinct committee people to go door to door, speak directly with their neighbors, and advocate for their candidates. Speaking with voters directly is the best way to poll a race. Phone surveys are becoming increasingly difficult, with fewer land lines and voters not answering their cell phones if the number is not recognized.
Job well done, Republican precinct committee men and women.
The only poll that mattered, Election Day, saw Braun the clear winner by nearly six points (50.9 percent to 45 percent).
The Braun campaign energized volunteers. Volunteers worked hard to get out the vote. And voters voted. Next year, let's continue to talk to real voters and see if the polling industry can modernize itself to be relevant again.•
Click here for more Forefront columns.
__________
Ping is a principal at Bose Public Affairs Group and former chairwoman of the Marion County Republican Party. Send comments to ibjedit@ibj.com.
Please enable JavaScript to view this content.