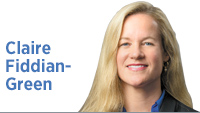 What would you say to a $1,000 holiday bonus? It could be yours if we tackled Indiana's 21.1 percent adult smoking rate, which categorizes us among the 10 states with the highest smoking rates nationwide.
The average Hoosier household—including the 79 percent of adults who don't smoke—incurs an annual federal and state tax penalty of $1,125 due to health care costs directly linked to tobacco use.
Think what you could do with an extra $1,000-plus in your wallet. That's about the same as the average monthly mortgage payment or the average monthly grocery bill for a family of four.
Even worse, Indiana's high smoking rate is responsible for the deaths of more than 12,500 Hoosiers every year. That's higher than the entire population of Speedway.
So, why isn't everyone talking about this? Why aren't we taking decisive action to address this shocking annual death toll and hefty financial burden?
The solution to Indiana's tobacco epidemic starts with three evidence-backed policies.
First, raising the cigarette tax is the number one way to prompt current smokers to quit and discourage people from starting to smoke. Years of data from across the United States show that, when the cigarette tax increases, consumption decreases. This is particularly true for the most price-sensitive individuals, including young people. That's very important, because nearly 90 percent of adult smokers started using tobacco by age 18.
Second, adequately funding tobacco prevention and cessation initiatives is critical to helping Hoosiers stay tobacco-free. Currently, Indiana funds these initiatives at only one-ninth of the level recommended by the Centers for Disease Control and Prevention. If we increased funding to the recommended amount, more than 115,000 Hoosiers would quit smoking (or never start) and Indiana would save over $370 million in annual health care costs.
Third, raising the minimum legal age to purchase tobacco to 21 would make it harder for young people to buy cigarettes. A common counterargument is that you only have to be 18 to fight and die for your country, but a number of military leaders support tobacco-control policies. According to a U.S. Department of Defense memo, tobacco use "undercuts military readiness" and "costs DoD an estimated $1.6 billion annually in medical costs and lost work time."
Beyond policies, there are steps every Hoosier can take to help end Indiana's tobacco crisis. Nicotine is highly addictive, and it often takes multiple attempts for smokers to quit. The most effective approach to quitting combines nicotine replacement therapy and counseling.
As you gather with family and friends this holiday season, encourage your loved ones who smoke to talk to their doctors and get help. Smokers can also call Indiana's free Tobacco Quitline at 1-800-QUIT-NOW.
In addition, talk to the young people in yourlife about the dangers of e-cigarettes, or vaping. The most popular e-cigarette brand is Juul, with more than 70 percent market share. Recent Indiana surveys find that many children and teenagers mistakenly believe e-cigarettes aren't harmful, and they are dead wrong.
In fact, U.S. Food and Drug Administration Commissioner Scott Gottlieb recently sounded the alarm about what he calls a national youth e-cigarette epidemic. The FDA has subsequently taken swift action to combat youth vaping, considered a gateway to traditional cigarette smoking. As Gottlieb has stated: "The FDA won't tolerate a whole generation of young people becoming addicted to nicotine."
We must take charge of Hoosier health by tackling Indiana's tobacco epidemic with proven policies and programs. These actions will save lives and money, and make Indiana a healthier place to live, work and play.•
Click here for more Forefront columns.
__________
Fiddian-Green is president and CEO of the Richard M. Fairbanks Foundation and a former adviser to then-Gov. Mike Pence on education issues. Send comments to ibjedit@ibj.com.
Please enable JavaScript to view this content.