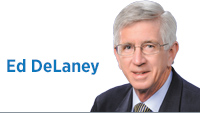 The Indiana General Assembly is trailing the national trend toward more competitive legislative bodies. It is hard to say just why. The obvious suspects are gerrymandering and the conservative leanings of Hoosier voters.
But the question that now faces us is, what will the House supermajority do to keep itself busy in the next session of the Legislature? I predict a major case of inaction. After all, in their letter of support for the speaker, Republicans proclaimed that he had made Indiana the best place in the country to live, work and raise a family. So what is left to be done?
Let me lay out some predictions and some options.
Predictions:
The supermajority will try to hide from ethical issues, whether they involve the attorney general, the speaker or anyone else. After all, accountability can be harsh.
The supermajority will pretend to care about gerrymandering. But come on, what could be wrong with holding 67 seats out of 100, most of which are very safe? Reform can die in committee.
The supermajority might try to expand state aid for preschool to all 92 counties, but that would increase spending and make it harder to keep our all-important surplus high. (Let's call that the "Prime Objection" because it justifies killing almost any idea.) So, we will add a few more counties to the preschool program and brag.
We could try to strengthen our universities and infrastructure.
We could try to rebuild the Department of Child Services from the ground up to protect kids—but guess what objection that raises.
We could raise cigarette taxes to protect our health, but that would raise revenue and we can't spend it because government must never grow or succeed.
We could make some feints at attacking the already limited right to abortion. This may sound like fun for the supermajority and costs nothing except for fees the ACLU will win when it sues. This might occur.
On guns, we could pretend that modest funds spent on "hardening" schools will do the trick. To heck with restricting semi-automatics or doing universal background checks. Hardening is likely to pass.
We could rein in Attorney General Curtis Hill's assault on the Affordable Care Act. But it is easier to ignore it and him.
Missed opportunities:
Let me recognize that the economy is doing well. Conventional theory would say this is a time for investment. So, what could we do, assuming we were willing to spend revenue? Here are some suggestions:
We should put serious money into the Indiana State Department of Health to run a concentrated attack on the opioid and meth problems. The public would support this and it would save lives.
We should put modern passenger rail in place to connect our regions and our state universities. That might attract the next Amazon deal and would improve life and ease highway congestion.
We could pass a living wage.
We could do something for our shrinking towns and the numerous counties losing population. We could build more state parks and increase support for local schools and roads.
We could use our power to mandate coverage for pre-existing conditions and tell the national Republicans that that fight is over in Indiana.
We will probably act on teacher pay; the need is obvious.
Best of all, the public can push us to act while we can. We do have the ability to react, given public support. The needs are apparent. Let's hope we don't let this opportunity pass.•
Click here for more Forefront columns.
__________
DeLaney, an Indianapolis attorney, is a Democrat representing the 86th District in the Indiana House of Representatives. Send comments to ibjedit@ibj.com.
Please enable JavaScript to view this content.