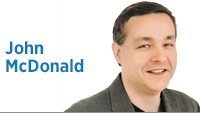 For the last two holiday seasons, I have bought nothing from a store. It's all click, ship and wrap for me. We've all read the articles about the "death of retail" and closing of traditional retailers nationwide. As the holiday season gets underway, it's important to recognize that the loss of retail jobs doesn't mean retail employment is gone forever, but merely shifting.
With Deloitte forecasting a 17 percent to 22 percent increase in e-commerce sales in 2018, more consumers shopping online translates to more job growth in transportation and warehousing. From 2015 to 2016, employment in these industries increased 8 percent during the holiday season.
As e-commerce disrupts the storefront, it's giving part-time seasonal workers better jobs and wages than ever before. Companies that have large distribution centers, like Amazon and Walmart, are picking up the slack in employment at the storefront and placing those workers in warehousing, packing and shipping. This evolution in retail is largely because of advances in technology that enable them to meet growing customer demand for instant gratification and efficient, fast shipping. Customers want the convenience of shopping around-the-clock and the ability to compare prices without leaving their sofa.
Retail businesses that have been willing to adapt to this consumer trend are reaping the benefits during the holiday season when efficiency and productivity are at their peak. Walmart has embraced this digital transformation with the installation of robots in loading docks and mobile checkout options in store. Other retailers are using robots to count inventory and work alongside employees to boost productivity in warehouses during the busy holiday season.
Many argue that this rise in automation will lead to overall job loss, but that doesn't seem to be the case so far. What's really happening is that jobs are moving from storefronts to different spots in the supply chain. Studies have shown that machine learning isn't displacing jobs, but moving them from sales to stock, transportation and other STEM-focused roles.
As the "Crossroads of America" and one of the top distribution hubs in the United States, Indiana is well-positioned to capitalize on a growing demand for warehousing real estate for retail organizations. Just last month, Amazon signed a lease to bring another distribution center to the suburb of Greenwood, creating jobs that will need to be filled.
Those businesses that fail to evolve by using technology to serve customers more efficiently will be in jeopardy of no longer having those businesses. Blockbuster is a prime example. The largest retailer in the video rental industry in 2000 began closing stores as Netflix capitalized on the shift in consumer preferences. The battle between old and new technology left Blockbuster and its "be kind, please rewind" tagline in the dust. Had Blockbuster been open to disruptive innovation and sought to adapt in the online marketplace sooner, it likely would still be in business today.
Business owners must shift their mindset and accept that using automation and technology advancements in warehousing and logistics is the only way to stay competitive and achieve the efficiency and productivity required to meet the 24/7 expectations of consumers.
With only 3 percent of retailers having actually completed a digital transformation project, according to a study by Oxford Economics, we might see more retailers proclaiming, "Bah, humbug," at the end of the holiday season.•
Click here for more Forefront columns.
__________
McDonald is the CEO of Fishers-based ClearObject and chairman of the Indiana Technology and Innovation Policy Committee. Send comments to ibjedit@ibj.com.
Please enable JavaScript to view this content.