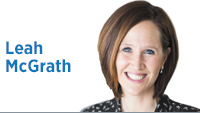 Sometimes the universe speaks, and it is up to us to listen.
This month, I had the privilege of hearing former Gov. Mitch Daniels address old friends, encouraging them to stay in touch always. I attended a service where we honored veterans and took a moment to give special recognition to the men and women, the unsung heroes, who served in Vietnam War time. I joined family and friends to celebrate my father, who is retiring from his business with optimism, as he begins the next chapter of his story. Today, I was inspired when I attended a lunch where a mentor and friend, Lou Gerig, deservingly received the Indy PR Legend award.
As I contemplate these events, days that were filled with sentiment, nostalgia and reverence, I can't help but reflect on the torch these men and women have carried and all I have learned from them. I wonder who will be next to fill their shoes and carry the torch that leads me still today and is needed to help guide the next generation—my sons and your children, too.
From these men and women, I learned that skill and talent matter, but not as much as finding someone you can truly trust, learn from, and fail in front of and carry on. I have learned that hard work is worthwhile, and though sometimes life is difficult, you have to put your head down and keep putting one foot in front of the other until you get to the other side. I have learned that respect is shown in both our words and our deeds.
What I am most impressed by is their selfless service to others, showing kindness and fulfilling duty without expecting anything in return.
I wonder and sometimes worry about who will carry that torch forward, given the direction of our society that in many ways has become snarky and self-absorbed. I don't see how we can sustain this all-or-nothing approach to issues, vilifying those who don't agree with our viewpoints 100 percent of the time. We are yelling too much on social media, in offices and at youth sporting events. As my grandmother would say: We have forgotten our manners. We have become complacent in our quest to see the good, and there is still so much good.
Gerig is known for his ability to see the best in others. He encourages others and works with fervor to help those he meets achieve their fullest potential. His service to his clients, friends and peers is selfless. His breed of mentor is rare. He is someone who doesn't just ask about how things are going at work. He wants to know how things are going with life. His first question to new acquaintances is, "Where are you from?" He cares.
Who will rise up next to teach us, inspire us, encourage us and make us better? My friends, it's you and me.
It's in the ways we interact with others, in the ways we express our disagreement, in the ways we listen to younger staff people and see their potential and not just their shortcomings, and in the ways we encourage them to see their potential, too. To see the good. To think more of others than ourselves. To think more of humanity than our positions of power and opinion. And to humbly admit, no matter our age, there is always more to learn.•
Click here for more Forefront columns.
__________
McGrath is deputy mayor of the city of Fishers and is vice chairwoman of the Indiana Republican Party. Send comments to ibjedit@ibj.com.
Please enable JavaScript to view this content.