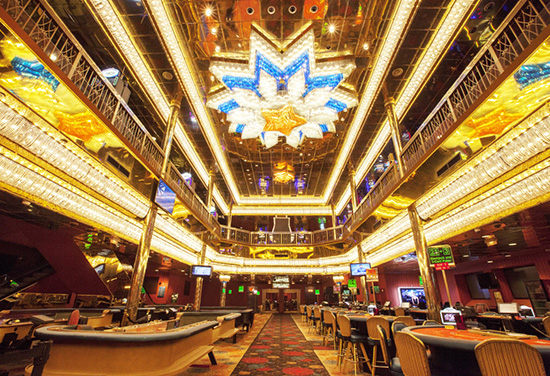 Former Centaur Gaming executives have created a new business to acquire two casinos in northwest Indiana, and have plans to relocate both gaming licenses.
The new company, called Spectacle Entertainment, announced Wednesday morning that it has acquired Majestic Holdco LLC, which owns the Majestic Star Casino and the Majestic Star Casino II, both located on Lake Michigan's Buffington Harbor in Gary, for an undisclosed amount of cash.
Spectacle is led by some of the same individuals who controlled Centaur Gaming—Rod Ratcliff, former chairman and CEO of Centaur Gaming, is the chairman and CEO of Spectacle, and John Keeler, the former general counsel for Centaur, has been named the general counsel for Spectacle.
Centaur sold its two horse track casinos near Indianapolis—Hoosier Park in Anderson and Indiana Grand in Shelbyville—to Las Vegas-based Caesars Entertainment Corp. earlier this year for $1.7 billion. The two racinos are among the biggest in the state, with Indiana Grand seeing nearly $276 million in total "win," which is gambling revenue after payouts, in fiscal year 2018, and Hoosier Park generating about $209 million in total win.
Keeler laughed when asked why they decided to pursue a new casino business so shortly after the Caesars transaction.
"It seemed like a really good opportunity that came along," Keeler said. "The more and more we looked at it, the more and more intrigued we were."
Majestic Star and Majestic Star II are among the smallest casinos in the state though—Majestic Star ranked third lowest in total win with $92.2 million in 2018, and Majestic Star II ranked second lowest with $59.8 million.
"There's been a steady decline of the revenues of those two boats from their inception to now," Keeler said.
To reverse the trend, Spectacle will try to relocate one casino within Gary and move the other license somewhere else in the state, but an exact location has not been determined.
Both gambling boats opened in 1996. The casinos share a 300-room hotel room, six restaurants, meeting facilities and a 2,000-space parking garage.
Yearly total win amounts peaked at Majestic Star in 2005 at more than $140 million, but have not exceeded $100 million since 2013. Yearly win totals at Majestic Star II have been on the decline since 2011.
The relocations would require approval from the Indiana General Assembly.
Keeler said they will begin lobbying for the legislation this session. Keeler said he thinks lawmakers at least agree that Buffington Harbor is an underutilized asset and removing the casinos could free up space for a better commercial use.
Last month, state lawmakers endorsed a plan to transform Buffington Harbor into an intermodal transit center, which would require relocating the casinos. 
In the meantime, the casinos will operate as usual.
"On an interim basis, we hope that we can continue to operate them as is and hopefully make incremental improvements," Keeler said.
Keeler declined to provide the cost of acquisition.
Ratcliff and Greg Gibson, an entrepreneur from Terre Haute who will serve as vice chairman of Spectacle, are the principal investors.
The transaction, which requires regulatory approval from the Indiana Gaming Commission, is expected to close in the first quarter of 2019. A spokeswoman for the gaming commission said that when it receives an application for the change in ownership the commission will try to work within the time frame requested by Spectacle.
Please enable JavaScript to view this content.