Indiana Standardbred Association President Jack Kieninger feels a little uneasy about the future of the horse-racing industry.

He certainly wants to see it grow and thrive, but he's not thrilled about having to leave a long-term partner—Centaur Gaming LLC—behind in order to do so.

With recent approvals from the Indiana Gaming Commission and the Indiana Horse Racing Commission, Caesars Entertainment Corp.'s $1.7 billion acquisition of Indianapolis-based Centaur is all but guaranteed to be finalized this month.

That gives Caesars control of Centaur's Indiana Grand in Shelbyville and Hoosier Park in Anderson, the state's only two casinos with horse-racing tracks.

"Everybody is kind of anxious to see what happens," Kieninger said. "It's like going on a blind date. You hope she's pretty, and you hope you have a good time, but sometimes you get fooled. Hopefully, we're going to get a pretty blind date."

Other leaders shared a similar sense of cautious optimism that Las Vegas-based Caesars can take horse racing to the next level in Indiana.

"This is kind of like a relay race, and for the last 10 years, Centaur has carried the baton," said Rick Moore, vice president and general manager of racing at Hoosier Park.

"Now you've got Caesars in the blocks, ready to go, hand outstretched to receive that baton. I know they're excited to get going and to show their commitment to horse racing."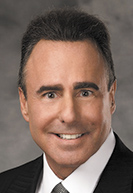 Frissora
Caesars owns and operates 53 gambling properties throughout five countries, and two of those involve racetracks: Harrah's Philadelphia Casino & Racetrack and Harrah's Louisiana Downs.

Caesars representatives declined to comment for this story, saying they would not speak to the media until the sale is final. But at the horse racing commission meeting on June 28, Caesars CEO Mark Frissora told commissioners about the company's plans to focus on the horse racing side of the operation.
"I understand that Indiana horse racing is the priority for us," Frissora said. "Gaming only exists to support the Indiana horse racing business."

Unstable past

Horse racing in Indiana has seen significant changes in the past decade. For years, the tracks were just that—horse racing venues. Indiana separately licensed casinos along the Ohio River and Lake Michigan, plus one at French Lick.

But as gamblers moved from horse racing to casinos, the Legislature voted in 2007 to let the tracks add slot machines. The idea was that the casino revenue would subsidize racing.



The racetrack owners invested $260 million in their new operations, expanding facilities significantly to accommodate the casinos that opened in 2008.

But the steep licensing fee the state required eventually caused financial problems for the combination tracks and casinos—often called racinos. In 2010, Centaur, which owned Hoosier Park, filed Chapter 11 bankruptcy reorganization; Indiana Grand did the same in 2011.

Centaur emerged from bankruptcy in a stronger position and purchased Indiana Grand out of bankruptcy in 2013, becoming the state's only racino operator. The company then transitioned all thoroughbred racing to Indiana Downs and all standardbred, or harness, racing to Hoosier Park.

The strategy, known as "one-breed-per-track," has had support from Indiana horsemen and continues to be successful.

Horse Racing Commission Executive Director Michael Smith said in a report to the commissioners before they voted on the Centaur-Caesars transaction that he "can foresee no circumstance where he would recommend returning to past practices" of running more than one breed per track, including a consolidation of the two tracks' operations at one facility.

Wagering in Indiana on races at the two tracks has been on the decline since 2005. But nationwide betting on races that are simulcast from Indiana has increased. From 2012 to 2017, Hoosier Park saw a 62 percent increase in its overall handle—money wagered on the races—and Indiana Grand's handle grew 44 percent.

"The horsemen are happy and cooperative," said Jon Schuster, vice president and general manager for racing at Indiana Grand. "We've had a great run."

And the standardbred industry in particular has enjoyed some success over recent years. In 2017, Hoosier Park hosted the Breeders Crown, which is akin to the Super Bowl in harness racing, and for the past few years, the national Harness Horse of the Year has had ties to Indiana.

"It's been a great achievement for the harness racing industry," Moore said.

Enough experience?

In terms of yearly win—the track's wagering revenue after payouts—the two Indiana racinos far exceed Caesars' existing locations. Indiana Grand's annual win in 2017 was $271 million, and Hoosier Park's was $209 million. Harrah's Louisiana Downs saw only a $44.6 million yearly win and Harrah's Philadelphia, $118 million.

Douglas Reed, a principal at Racing Gaming and Entertainment LLC who consulted on the ownership transfer request for the Indiana Horse Racing Commission, wrote in a report that the Louisiana property is in a highly saturated market, which has made it difficult to increase business.

The Indiana racetracks don't have that problem.

"Operating the same as at Louisiana Downs will not be perceived the same way in Indiana as it is in Louisiana," Reed wrote in the report.

And while Harrah's Philadelphia is not operating in a market quite so saturated, it's still quite competitive.

Kieninger, of the standardbred association, said he isn't sure Caesars has enough horse racing experience for what it's about to undertake, especially given Indiana Grand and Hoosier Park are operating so well.

"I don't think they're 100 percent knowledgeable on horse racing," Kieninger said.

But Brian Elmore, executive director of Indiana Horsemen Benevolent & Protective Association, said Caesars isn't "a newcomer to horse racing" and it's a good sign that the company is maintaining existing racing leadership at the tracks—Moore at Hoosier Park and Schuster at Indiana Downs.

"They're going to continue with experienced management, which I think is somewhat of a comfort to the horsemen, because both gentlemen are well respected by the horsemen and know the business, especially here in the state of Indiana," Elmore said.

And Moore and Schuster say they're excited about the managers Caesars is bringing in: Ron Baumann will be senior vice president and general manager of Indiana Grand, and Trent McIntosh will hold the same positions at Hoosier Park.

Baumann has worked as regional president of Harrah's Philadelphia and Horseshoe Baltimore, and was most recently chief operating officer of Rush Street Gaming.

McIntosh most recently served as assistant general manager at Horseshoe Bossier City and Harrah's Louisiana Downs, and he comes from a racing family. His grandmother is Betty McIntosh, who was inducted into the Quarter Horse Racing Association of Indiana Hall of Fame in 2015.

Potential growth

Drivers cruising along Interstate 74 or Interstate 69 might not recognize or be inclined to stop at Hoosier Park or Indiana Grand, which have limited name recognition outside the state, Elmore said. But they will know the Caesars and Harrah's.

And that in itself could be enough to increase customers.

Caesars officials announced in a recent presentation to state officials that Hoosier Park could be rebranded Harrah's Hoosier Park once the acquisition is complete.

"I think just the affiliation there will be helpful," Elmore said.

Caesars is betting on more than just its name to bring a boost to the industry, though.

The company plans to pick up where Centaur left off in capital investments, and could invest nearly $50 million between the two properties on capital improvements and new technology infrastructure.

"Hopefully, they'll invest in a hotel or something and take us to the next level," Kieninger said.

Caesars executives made no mention of a hotel during their presentation to the horse racing commission, but they emphasized their Total Rewards program, which has more than 55 million members and allows customers to earn loyalty points at any Caesars property.

"They have an incredible player network in their Total Rewards program," Schuster said. "We have a very good one, but I think theirs is many multiples of what ours is."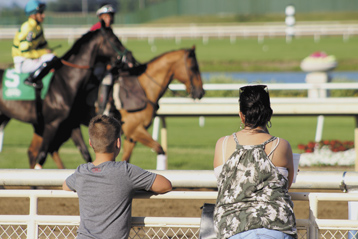 Wagering at Indiana Grand, above, and Hoosier Park has declined in recent years, but nationwide betting on races simulcast from the state has increased. (IBJ photo/Erica Irish)
Caesars also has plans to expand the tracks' simulcast network (which means the Indiana races would be available for betting in more places), increase marketing and advertising, and add table games to the racinos in 2021, as soon as state law allows it.

"All of these things together will grow handles, which will grow purses, which grows the industry," Moore said.

Some of the tax revenue paid on wagering at the casinos and tracks is plowed back into purses—the amount of money paid to the owners of the highest-finishing horses in a race. Some of that money is used to offer bonuses to winning horses bred or trained in Indiana.

Kieninger said he is looking to Caesars to increase purses, because that could encourage more people to own racehorses.

"It's usually the purse that kind of generates the interest, and our purses have been kind of flat for the last couple years," Kieninger said.

From 2013 to 2016, average daily purse distribution dropped about 5 percent at Hoosier Park, from $185,000 to $175,000; total purse distribution also dropped about 5 percent.

But for now, Indiana's standardbred industry is considered a regional powerhouse. In 2016, Hoosier Park ranked third among surrounding states in average daily purse distribution, and first in total purse money. Nationally, it was ninth in average daily purse distribution and fourth in total purse money.

The state's thoroughbred industry isn't quite as well-known but is still well-respected among horsemen. Indiana Grand ranked third among surrounding states for average daily purse distribution and second for total purse money in 2016.

"There's just so much entertainment dollar now that people are spending it other places," Kieninger said. "That's what Caesars can do for us. They can kind of woo those people back to us. … At least, that's our hope."•