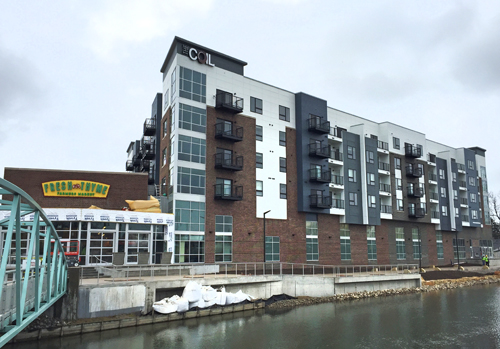 A year-old grocery-anchored apartment property in Broad Ripple has been sold for more than $40 million.
The Coil Apartments complex, 6349 N. College Ave., was acquired Nov. 20 by Coil Apts. LLC, an affiliate of Chicago-based private-equity firm RDG Funds. The 151-unit complex covers 2.74 acres near the heart of Broad Ripple.
The purchase—RDG's first in Indiana—includes retail space that houses a Fresh Thyme grocery store, as well as a 332-space parking garage.
RDG Funds bought the property for $40.7 million from a partnership consisting of developers Browning Investments and Sheehan Construction Co., according to a sales disclosure form filed with the state.
Browning assembled the property for the Coil by buying adjacent parcels that housed a long-vacant Shell station and several low-rise apartment buildings.
The sellers were represented by Todd Stofflet from Cushman & Wakefield's Chicago office. Patrick Adams of Sheehan was also involved in the sale on behalf of the company.
The facility changed management following the sale, switching from Sheehan to Flaherty & Collins.
The five-story building has "north of 90 percent" occupancy, Stofflet said Tuesday.
The $37 million Coil development opened in April 2017 as one of the first of several new apartment projects in the Broad Ripple area. The high-end complex has an outdoor courtyard and a 24-hour fitness center.
Monthly rents range from $1,047 for a 516-square-foot studio apartment to $2,990 for a 1,676-square-foot unit with two bedrooms and two bathrooms.
Several other apartment projects are in the works or have recently opened in the Broad Ripple area. Among them are the $23 million, 130-unit complex called The Line, at 6364 Westfield Blvd.
The $18.9 million River House Broad Ripple project, which includes 86 apartments and has 5,000 square feet of retail space, opened this month and already has several tenants.
Another project also is in the works in the corridor, between College and Carrolton avenues north of 62nd Street. Buckingham Cos. is seeking approval for the proposed 164-unit project from the Broad Ripple Village Association.
Please enable JavaScript to view this content.