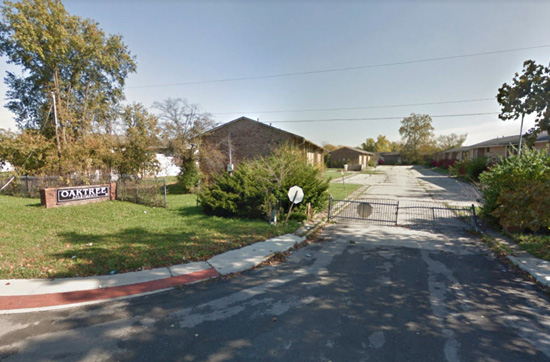 The city of Indianapolis is prepared to offer $1.6 million to the owner of the condemned Oaktree Apartments to acquire the troubled far-east-side property.
The Metropolitan Development Commission is set to consider authorizing the city to offer that amount to Oaktree owner Indy Diamond LLC. If the company does not accept, the city has said it would consider using eminent domain to take ownership of the property and prepare it for redevelopment.
The city says the property, southeast of the intersection of 42nd Street and Post Road, is a "threat to public health, safety and welfare" on the far-east side. In 2014, the Marion County Superior Court ordered all residents to vacate the 336-unit complex, and the Marion County Health Department condemned the buildings and ordered them to be demolished.
"The property has become blighted, requires frequent boarding orders, and the structures present considerable safety and security challenges," according to the MDC resolution.
But the clubhouse and 28 two-story buildings still stand at the site, despite a Marion County Superior Court ordering that Indy Diamond LLC complete demolition of the buildings by the end of this August.
"Indy Diamond LLC currently stands in contempt of the Marion County Superior Court's order for failing to obtain permits or perform demolition," according to the resolution.
A representative for Indy Diamond LLC could not be immediately reached by IBJ.
The city's Department of Metropolitan Development decided to offer $1.6 million to Indy Diamond because it was the average of two independent appraisals on the property.
DMD director Emily Mack has said the city is considering eminent domain if Indy Diamond does not accept the offer as "an absolute worst-case scenario." It could make way for new mixed-use, mixed-income development along the planned path of the IndyGo Purple Line rapid-transit bus route.
"We want to improve the quality of life at 42nd and Post," Mack earlier said.
Please enable JavaScript to view this content.