Fred M. Fehsenfeld, who grew his family's gas station company Crystal Flash into the petroleum and chemical powerhouse The Heritage Group, has died at 94.
Fehsenfeld, who joined the U.S. Army Air Corps at 18 and served as a fighter pilot in World War II, was a graduate of Shortridge High School who earned a bachelor's in mechanical engineering from Purdue University.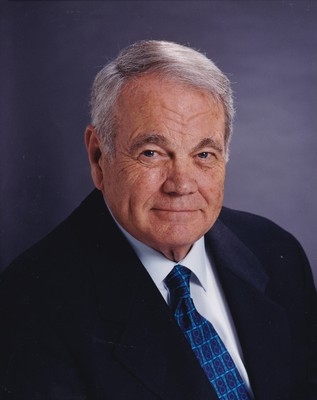 He began his career at Rock Island Refining as a process engineer but later joined the family business, Crystal Flash Petroleum, a company that operated gas stations and sold home heating oil. 
"My father called and said the vice president of the heavy fuel department had resigned and asked me to take his place," Fehsenfeld told Purdue's Imprints Magazine in 2011. "He seduced me by paying me more money than I was making as a process engineer at the refining company." 
Fehsenfeld, who died Nov. 28, consistently sought occasions to grow the company and taught himself about other industries so he could take advantage of opportunities when he saw them. After visits to the library, for example, he jumped into the asphalt business, constructing an asphalt facility in 1960 that is still in operation today.
He eventually pulled the company's growing interests into an umbrella firm called The Heritage Group, which is now headquartered at Intech Park in Indianapolis.
The Heritage Group currently employs 6,500 people around the world, with operations across North America, Europe and China in the core industries of environmental and remediation, specialty chemicals and fuel products, and construction and materials. The company remains owned by the Fehsenfeld family. His son, Fred Fehsenfeld Jr., serves as its CEO and his granddaughter, Amy Schumacher, is its president.
"Fred was a rare visionary leader, a revolutionary builder, who had a giant heart for our state and nation," Gov. Eric Holcomb said in a statement. "His lifetime of service and philanthropy will continue to impact the lives of Hoosiers for the next 200 years."
Last year, Holcomb named Interstate 865—the east-west connector between I-65 and I-465—after Fehsenfeld, who was a major donor to his alma mater, Purdue University, throughout his life.
His contributions established the Fehsenfeld Family Head of Environmental & Ecological Engineering, the Purdue Energy Fund and expanded the Division of Environmental and Ecological Engineering. 
"We think there are many great places where environmental engineering can do constructive things, particularly in recycling and waste recovery," Fehsenfeld said in the Imprints Magazine story. "What will happen now is that students will be exposed to mechanical engineering, chemical engineering, civil engineering and bio-engineering. In other words, it is a division on its own that will utilize faculty from all the other engineering schools.
Fehsenfeld was also a big donor to Republican political candidates and party organizations. He donated tens of thousands of dollars over the years to candidates and office holders including Mike Pence, Eric Holcomb and Todd Young and hundreds of thousands in total to groups including the National Republican Senatorial Committee, National Republican Congressional Committee and Indiana Republican State Central Committee.
Outgoing Rep. Todd Rokita, R-4th District, issued a statement saying that Fehsenfeld's dedication and leadership "spawned innovation throughout Indiana."
"It was an honor to work closely with him throughout my time in Congress, and he will be sorely missed," Rokita said. "Indiana and America are a better place because of Fred Fehsenfeld."
Fehsenfeld and his first wife, Midge Fehsenfeld, had seven children, two of whom preceded him in death. He had 20 grandchildren and 24 great-grandchildren. Midge Fehsenfeld died in 2003, after the couple had been married 57 years. He then married Barbara Fehsenfeld, who survives.
Please enable JavaScript to view this content.