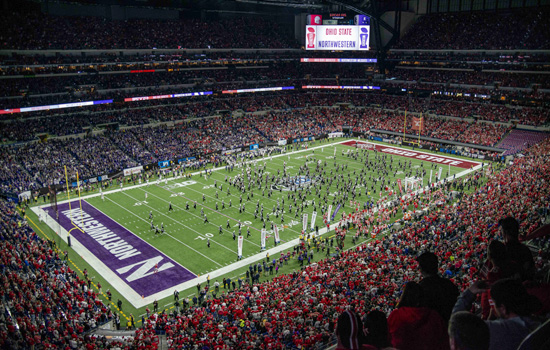 More than 66,000 college football fans attended Saturday's Big Ten Football Championship game at Lucas Oil Stadium, making up the second-largest crowd in the title game's seven-year history.
The crowd of 66,375 on hand to see Ohio State's 45-24 defeat of Northwestern inched past last year's game attendance by about 500 people, but fell short of a complete sellout. Lucas Oil Stadium's approximate capacity is 70,000.
Publicly available tickets on online exchanges were sold out by Thursday afternoon, generally leaving the only unbought tickets in suite areas. Suites at Lucas Oil Stadium for the Big Ten Championship generally start at $3,400 for eight people.
The local economic impact of the game has not been finalized by Visit Indy, but the championship was expected to generate about $18.1 million in hotel stays, restaurant tabs, ticket sales, transportation fares and other revenue.
The game has only been declared a sellout once in its history—in 2015, just under 67,000 people attended the Michigan State-Iowa Hawkeyes game that featured two Top 5 teams. It has brought more than 66,000 spectators three times since its inception, including this year's game.
The worst-attended Big Ten Football Championship was in 2012, when Nebraska and Wisconsin played for a crowd of 41,260 people.
Saturday's win wasn't enough for Ohio State (12-1) to earn a berth in the College Football Playoff. Instead, the team will play No. 9 Washington (10-3) in the Rose Bowl on Jan. 1. Northwestern (8-5) will play No. 17 Utah (9-4) in the Holiday Bowl on Dec. 31.
Please enable JavaScript to view this content.