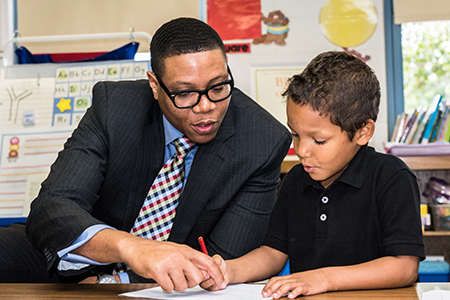 Lewis Ferebee will be the next chancellor of D.C. Public Schools, officials announced Monday, leaving a leadership hole at Indianapolis Public Schools, where he has served for five years.
He will be the sixth non-interim leader of the district in Washington, D.C., since 2000.
His departure is not a complete surprise, as Ferebee pursued the top job in Los Angeles earlier this year. But Ferebee's move raises major questions for Indianapolis, a district that has pursued a slew of dramatic, and controversial, changes under his tenure.
Most prominently, Ferebee — a former teacher and principal who spent much of his career in North Carolina — oversaw the creation of the 31,000-student district's innovation network, a group of charter and charter-like schools, sometimes managed by outside operators, that remained under the auspices of the district and are not automatically part of unions. To some national philanthropies and advocates, IPS has served as a blueprint for the "portfolio model" of managing a city's schools thanks to its close relationship between district and charter schools.
But Ferebee suggested that he would continue to follow D.C.'s existing approach rather than bring in ideas from Indianapolis.
"I see us continuing our path of excellence to date," Ferebee told the Washington Post. "I don't have any solutions that are being implemented in Indianapolis that I would say are absolutely necessary and important to the District right now."
Ferebee has had the backing of the school board and of the influential local nonprofit The Mind Trust as he pursued that approach. But it's also drawn pushback, including from some community groups and the local teachers union.
In the most recent school board election, two critics of the innovation network ousted incumbents. Those new divisions on the board could complicate the search for Ferebee's replacement.
Indianapolis voters did approve a tax hike for schools in that election, a win for the district. But the district is still likely to face steep budget cuts in the years ahead, and it recently closed four high schools.
In D.C., Ferebee will enter a city similar in some respects to Indianapolis. The districts serve about the same numbers of students, and both cities have a large charter sector and a joint enrollment system for district and charter schools, though in Indianapolis the system includes only district magnet schools.
But D.C. is a high-profile district that's been roiled by scandal in recent years. Ferebee's predecessor, Antwan Wilson, was forced out after circumventing the city's enrollment system to get his daughter into a preferred school.
Ferebee beat out interim DCPS head Amanda Alexander for the job.
Ferebee will now report to a mayor — Muriel Bowser, who just won re-election — rather than a school board whose members have divergent views. D.C. schools are also much better funded, spending among the most in the country.
And D.C. does not have a similar network of charter-like innovation schools. One key question is whether Ferebee will try to create one, risking the controversy that has followed the approach in Indianapolis.
"The current board has been on a mission to privatize public schools in Indianapolis under the guise of innovation and/or reform, becoming the largest charter management provider in the city," wrote one newly elected school board member leading up to this year's election. "The serious business of teaching is left to nonprofits that can and will move on when the money moves away."
"The idea that IPS can prosper without embracing change and by being unwilling to partner with others is asinine," Ferebee wrote in a 2016 letter to the editor responding to similar criticism. "Despite inflammatory charges to the contrary, our Innovation Network Schools, serving IPS students and families, are 100 percent accountable to the IPS school board."
The district's test results have been stagnant since new, harder tests were introduced for grades 3-8 in 2015 and grade 10 in 2016. The percentage of elementary and middle school students who passed both the English and math ISTEP in 2018 was 23.7 percent, according to results released in October, down 0.8 percentage points from last year. Among high-schoolers, 5.3 percent passed both exams, down 3.5 percentage points from 2017.
IPS has seen graduation rates rise, a priority for officials in recent years. For the 2016-17 school year, 83 percent of students graduated, up 6 percentage points from the year before.
Chalkbeat Indiana is a not-for-profit news site covering educational change in public schools.
Please enable JavaScript to view this content.