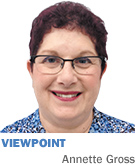 As co-president of Indianapolis Parents, Families, Friends & Allies of Lesbians and Gays, I hear stories of heartbreak as mom after mom tell me about their children leaving because they do not feel welcome in Indiana. We as moms want to be together as a family during important times. However, because our children are moving out at such a feverish pace we miss out on so much.
Some of us don't get to meet the people our children fall in love with. We travel across the country for weddings if we can go at all. Some of us miss out on helping raise grandchildren. We aren't there to celebrate promotions, birthdays and graduations.
Why would our children want to stay in a place that does not welcome them? How can we as moms ask our children to stay when we know that they won't be happy?
We know Indiana's economy is suffering. We have some of the best and brightest young talent, but many young people leave because of how unwelcoming Indiana feels. During testimony on House Joint Resolution 3 (a proposed amendment to Indiana's Constitution that would prohibit the freedom for same-sex couples to marry) earlier this year, representatives from Eli Lilly and Co. and Cummins confirmed this. They said they're having difficulty attracting employees because candidates don't want to live in a place that doesn't respect them and afford them the benefits they need.
Indiana is sending the wrong message and losing talented workers is collateral damage.
I recently spoke to some parents of lesbian, gay, bisexual, and transgender children who left Indiana. We talked about the kind of Indiana we want for our children—one that accepts them, welcomes them and invites them to raise their family here. We are the moms for a more welcoming Indiana.
Jean Hayden said that when her husband died last summer, she needed all three of her children close by immediately, but because her gay son lives so far away, that was not possible. He moved because he did not feel like Indiana was the best and safest place for him to live.
Judy Straub's son was the first openly gay president of the Indiana University Student Association and graduated with honors from the Kelley School of Business. His dreams of falling in love, getting married and starting a family are some of the reasons he is happy living outside of Indiana.
Ruth Ann Cooper's daughter moved away years ago because she did not feel like Indiana welcomed her. Ruth Ann and her husband Phil have been working to secure her freedom to marry for four years now and resist the urge to ask her to come home to stay until they have succeeded.
Cindy Shamy's daughter Chelsea is planning on leaving as soon as she graduates from Purdue University. She wants to move to Illinois so she can eventually marry her girlfriend.
Joan Showalter and Jan Nichols also told me stories about their children leaving the state. They join a growing list of moms that watch as their children pack their bags for more welcoming and accepting homes.
I am writing this to ask Hoosier moms and families to think about the displaced sons and daughters. Think about these moms who don't see their loved ones because their children have received the message that the place they (used to) call home does not respect them. And think about the major contributions these young people could be making for the betterment of Indiana.•
__________
Gross is co-president of the Indianapolis chapter of Parent, Families, Friends & Allies of Lesbians and Gays. Send comments on this column to ibjedit@ibj.com.
Please enable JavaScript to view this content.