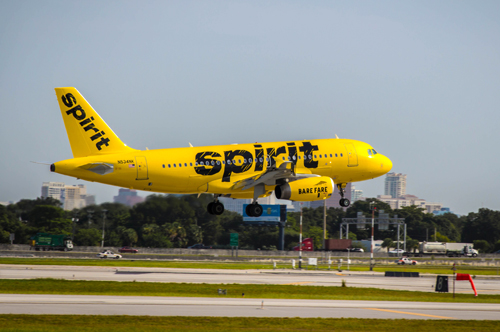 Fast-growing national low-cost carrier Spirit Airlines plans to begin operations in Indianapolis next year, beginning with nonstop flights to and from three destinations.
The Miramar, Florida-based airline announced Tuesday morning that it will offer year-round daily flights from Indianapolis International Airport to McCarran International Airport in Las Vegas and Orlando International Airport in Florida starting March 14, and a seasonal flight to Myrtle Beach three times weekly from May 2 to the end of September.
Mark Kopczak, vice president of capacity planning for the 26-year-old airline, told IBJ that Spirit will use the initial routes to evaluate whether it should add more destinations from Indianapolis.
He said the goal is to continue to add nonstop routes as they become economically viable.
Kopczak said about 20 or so employees will be needed to get operations in Indianapolis operations off the ground.
Spirit, the eighth largest commercial airline in the United States, offers more than 500 daily flights to 70 destinations in North America, Central America and South America.
The nearest cities in its flight network are Chicago and Columbus, Ohio.
For its Indianapolis flights, the company is likely to use Airbus A320 aircraft, which carry up to 182 passengers. Spirit has one of the youngest aircraft fleets in the industry.
"This is more than just a new airline announcement for the Indianapolis International Airport; it's a bridge to many places—both via nonstop flights and the market connections that Spirit Airlines can provide at an ultra-low cost for thousands of Indy travelers," Indianapolis Airport Authority Executive Director Mario Rodriguez said in written comments.
Kopczak oversaw the addition of 60 cities to Spirit's network over the past 19 years as vice president of network planning, a position he left this month. He said he sees a lot of potential for growth in Indianapolis.
"We look for places where we see economic growth and opportunity to grow, and for places that tie into our network," he said.
Spirit bills itself as an "ultra low cost carrier" with some of the cheapest base fares in the industry. The airline's no-frills "a la carte model," however, means customers can pay additional fees for just about everything, including in-flight beverages (even water), purchasing tickets by phone, assigned seats and printing boarding passes at the airport.
The company plans to begin offering in-flight Wi-Fi service on all flights by summer 2019 for an estimated fee of $6.50 per flight.  
Spirit's luggage policy limits passengers to one free personal item of 18 inches by 14 inches by 8 inches. Additional and larger bags can cost anywhere from $30 to $150 each. Many other airlines allow a free personal item of a similar size, plus a free larger carry-on bag.
The extra fees catch some passengers by surprise, but bargain hunters have embraced the "Bare Fare" system.
Spirit had one of the lowest ratings for customer satisfaction in recent years, with high levels of complaints, low levels of comfort and one of the worst records for on-time flights. But the airline partnered with Walt Disney Co. last year in an effort to improve service standards and has been making notable improvemenst, according to analysts, especially in the category of on-time flights, where it now ranks near the top.
A Spirit spokesman said Department of Transportation complaints have fallen 70 percent for the airline over the past three years.
The airline has achieved consistent double-digit revenue growth over the past few years. Operating revenue was $904.3 million in the third quarter, up 31 percent from the same period of 2017. Profit was $97.5 million, or $1.43 per share, an increase of 62 percent.
Company shares closed Monday at $60.42 each, up from $45.60 at the beginning of the year.
Please enable JavaScript to view this content.