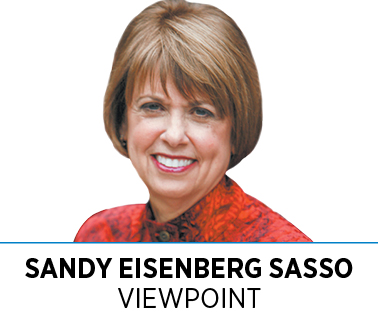 The inaugural 2017 Women's March was an unprecedented assembly with one purpose: to secure the safety, dignity and well-being of all women in our country. But sadly, there are cracks in the gathering's unity. A serious concern is anti-Semitism.
While the most dangerous threat to Jews comes from far-right white supremacists whose hateful agenda threatens all minorities, we cannot ignore the unwillingness of leaders on the left to distance themselves from those whose anti-Semitic rants are vile and dangerous.
When Louis Farrakhan says that "Satanic Jews have infected the whole world with poison and hate," it shouldn't be difficult to denounce him. Yet the leaders of Women's March, Linda Sarsour and Tamika Mallory, believe it is sufficient to disclaim anti-Semitic language without denouncing the messenger. But it is not enough to decry anti-Semitism in theory, as the March's principles proclaim, while embracing hateful anti-Semites.
Jewish women are being asked to stay with the March as an expression of solidarity. I have been asked whether I will participate this year. While I pledge to continue to help enhance women's power, I regret that I cannot attend this year's Women's March without abdicating my self-respect as a Jewish woman.
Anti-Semitism has a long history from which feminism, sadly, has not been exempt. In the 1930s, the peace and women's movements refused to acknowledge the seriousness of the Nazi threat to Jews, saying it was insignificant compared to peace efforts and would derail their work on women's rights.
Activists in women's conferences in the 20th century doubted whether Jewish women could be feminists if they were also Zionists who supported the right of the Jewish people to a national homeland. Astonishingly, this same sentiment is echoed today by prominent leaders in Women's March, who choose to single out Israel, not only for criticism but for boycott, while remaining silent about the human rights violations of other countries.
Early Christian feminists also gave voice to anti-Semitic canards. It wasn't until the mid-1960s that traditional Christianity recanted the notion that Jews killed Jesus. But some early Christian feminists offered a new take on deicide by proposing that Jews killed the "goddess," and Jesus came to cleanse religion of patriarchy.
I am a proud Jew, having served the Jewish community as a rabbi for 44 years. I am a proud feminist, having advocated women's equality for half a century.
I was honored to speak at the first Women's March in Indianapolis, promising that we were not going back to a time when women were second-class citizens. Neither am I willing to go back to a time when Jews were maligned and few spoke up. Having spoken with leaders of the Indiana Women's March, I hope we will stay in conversation to address these concerns.
The women's movement is more than a march. First, it is millions of women who run for office; who lobby for legislation to ensure freedom from intimidation and abuse; who advocate for pay equity, child care and parental leave, reproductive choice, equal job opportunities, and the reduction of infant and maternal mortality.
Also, it is a movement that opposes all forms of bigotry and builds bridges of understanding across a diverse racial, religious and cultural America. To ignore the latter is to betray the former.•
__________
Sasso is rabbi emerita at Congregation Beth-El Zedeck.
Please enable JavaScript to view this content.