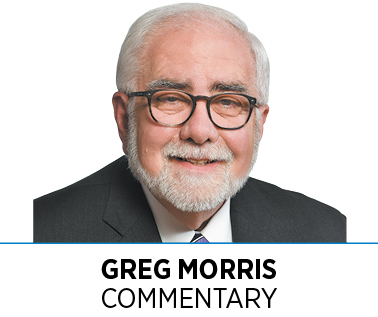 Another year bites the dust. Like many of you, I've been in that familiar year-end mode of closing out as strong as possible and positioning our company for success in the new year.
As with any year, there are successes to build on and lessons learned from endeavors that did not meet expectations. In this era of disruption, as a tech-enabled company, we need to be nimble, fail quickly, learn, adjust and move on when things don't go as planned.
Overall, though, I'm very pleased with the quality of news and information provided to our readers in print, digitally and at events in 2018. And I don't use the term "news" lightly. I'm talking about the seemingly lost art of journalism here. You won't find much of it on television, where the line between news and entertainment has become blurry, at best. In IBJ, news is always clearly separate from opinion.
While we always strive for perfection in our news coverage, I realize we occasionally fall short of expectations. All businesses do. However, we try to own up to and learn from our mistakes. I do believe IBJ consistently delivers among the most in-depth, fair, unbiased and factual news coverage of any regional business publication in the country.
Our readers must agree. I've discussed this in the past, but it bears repeating. At a time many publications across the country are struggling to survive, let alone thrive and grow, IBJ's reach has never been greater.
IBJ has more than 27,000 print readers, 45,000 eNews subscribers, and an average of 350,000 monthly unique visitors on ibj.com. Compare that to the almost-exclusively-print readership of 10 to 15 years ago, and we're not even in the same universe. Our print subscribers spend an average of 40 minutes reading each issue of IBJ, and this number has stayed consistent through the decades.
An extension of IBJ's reach could be found at the 16 events we presented in 2018, where nearly 6,500 attendees came together to network, hear experts in their fields, and recognize individuals who benefit our community.
We just completed our final 2018 event: "Engage Indiana—Business as a Force for Good," presented with the Indiana Economic Development Corp. It was a big one, with more than 500 attendees. Keynote speaker Mitch Daniels and a panel of business and city leaders addressed how companies can use engagement to help create the cities of the future and make our state a better place to invest, work and enjoy life. Our 2019 lineup is shaping up to be another great one.
I'm excited as I look ahead to what we'll provide IBJ readers in 2019. I can't spill all the beans now, but you'll find some expanded coverage of key industries and we're working on new ideas for events.
I will say that an area of emphasis in 2019 is building upon our digital suite of offerings, both in content and delivery. I'm not going to sugarcoat it; this is a big endeavor. We are committed to providing a great customer experience by investing in people, technology and innovation. That process has already begun.
So, there's a little peek under the hood for 2019. I'm also excited about moving into our new office space at One Monumental Circle sometime in March. The move amplifies our feelings of starting anew.
Thanks for reading IBJ. Thank you for your business in 2018 and for your continued support moving forward. I wish you good health and success in the year ahead. Happy Holidays to all.•
__________
Morris is publisher of IBJ. To comment on this column, send email to gmorris@ibj.com.
Please enable JavaScript to view this content.