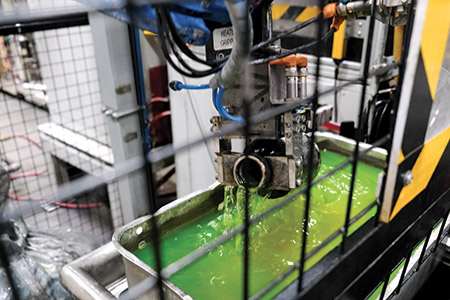 Indianapolis-based Contour Hardening Inc., a small manufacturer in the niche metal heat-treating industry, has a new CEO, a new outlook and big plans to more than triple annual revenue in five years.
Contour's revenue has been stagnant of late, hovering just under $15 million a year. Now, the company is investing in technology, eyeing new markets and aiming to grow annual sales to $50 million.
"It's a big jump—but it is very detailed, how we're going to get there," said Ben Crawford, Contour's president and CEO. "There's no guessing what we want to do."
Crawford, 48, joined the company at the end of July, following the death in May of Contour's co-founder, John Storm, then president and CEO.
One of Crawford's first tasks: Work with the senior leadership team to create a five-year plan that includes increasing sales—both organically and through acquisition—and adding three manufacturing sites.
"It was kind of like a breath of fresh air," Contour's heat-treat director, Neil Merrell, said of Crawford's arrival. "We needed a fresh look on the industry, and we needed to diversify ourselves a little bit, expand our offerings to the marketplace."
Currently, 88 percent of the company's heat-treating customers (heat treating metal makes it stronger and less brittle) are in the automotive industry, including General Motors, Ford, Toyota, and other foreign and domestic automakers.
Contour Hardening Heat-treat Director Neil Merrell, left, and CEO Ben Crawford have plans to add sites, sales.
One of Contour's diversification goals is to break into the booming aerospace industry.
As commercial aviation grows globally, particularly in developing countries like China and India, Chicago-based aircraft maker Boeing forecasts a demand for nearly 43,000 new airplanes by 2037.
Contour also sees opportunity in the fact that aircraft-engine maker Rolls-Royce has an Indianapolis presence, and that another engine maker, GE Aviation, has a plant in Lafayette.
"We just want to be another resource [to aerospace manufacturers], and we think there's a lot of opportunity to do that," Crawford said.
To that end, the company is pursuing accreditation from the National Aerospace and Defense Contractors Accreditation Program. It also recently purchased its first gas nitride furnace—a type of heat-treating technology that is favored in the aerospace industry and gaining popularity among automakers as well.
The company is also eyeing the energy market, which could mean heat-treating components for everything from oil-drilling equipment to windmills.
As Contour picks up customers, it also plans to add facilities—one in the Southwest that would focus on the energy market and one in the Southeast that would focus on aerospace. Contour is working to land a contract with an automotive-seating manufacturer in Cincinnati; if that contract comes through, the company plans to also open a satellite in that city.
Optimism
Are Contour's ambitious goals attainable? "Very much so," said Tom Morrison, CEO of MTI Management, which manages the affairs of the Metal Treating Institute, an industry group.
Heat treating—heating metal to a temperature of up to 2,400 degrees, then cooling it— is used on all sorts of metal components, "everything from gears in a car to the spring in your toaster oven," Morrison said.
Because many manufacturing sectors are growing, he said, heat treating is also prospering.
And as aging baby boomers look to sell their businesses, Morrison said, Contour should have no problem finding companies to acquire.
In the United States and Canada, commercial heat treating is an annual $2.8 billion industry, Morrison said. If you include both commercial heat treaters like Contour and the manufacturers that do their heat treating in-house, he added, it's a $24 billion industry.
MTI projects that the heat-treating industry will be flat in 2019 after several years of growth, followed by about 5 percent growth in 2020. It doesn't forecast more than 24 months ahead.
Other outsiders are also optimistic for Contour's future.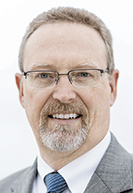 Landis
Bringing in outside leadership can be energizing, said Brian Landis, managing director of the Butler Business Consulting Group.
"Someone comes in with more of a fresh-start growth mentality, listening for good ideas—it just kind of injects a new spirit," Landis said. "It's like turning over a new leaf."
The Butler Business Consulting Group, part of Butler University's Andre B. Lacy School of Business, offers fee-based consulting to businesses in a variety of industries.
In his role with the consulting group, Landis met Contour co-founder Storm and got to know the company, though Contour never ended up hiring the consulting group.
"John was a fascinating guy," Landis said. "It's good to see the seeds that he sowed are now paying off in new ways."
'Getting our message out'
Crawford, who has 30 years of experience in heat treating, has also helped the company raise its profile within the industry. It recently launched a new website and logo, got involved with an industry trade association, and is generally working to make itself known.
Storm and Mike Chaplin, former engineers at Allison Gas Turbine (now Allison Transmission Inc.), formed Contour in 1986. Chaplin retired several years ago.
While at Allison, the two invented a heat-treating process that used electricity instead of the standard gas-powered furnace. Known as induction heat treating, the new method added more strength to the metal in a faster and more environmentally friendly way.
Allison was not interested in patenting the men's invention, so it granted them permission to use the technology as the basis for their own business.
Contour, which has its own research and development department, now holds more than 30 patents.
Contour is proud of its in-house engineering talent, which enables the company to help customers solve complex problems quickly. But until now, the company hadn't done much to market this advantage.
"We're really just getting our message out there to everybody," Crawford said.
The efforts appear to be working.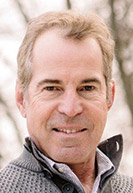 Montgomery
Gord Montgomery, president of heat-treating industry online newsletter The Monty, said he's already noticed that Crawford is "raising the profile of that company. He's just getting the company better known at everything that they do."
Montgomery, who lives in the Toronto area, has 40 years of experience in the heat-treating industry. But until recently, he had only a vague idea of what Contour actually did.
Heat treating accounts for about 90 percent of Contour's revenue. The company also makes and sells equipment for customers who want to heat-treat their metal in-house.
Although those sales account for only 10 percent of Contour's business, Montgomery knew Contour only as an equipment manufacturer. Until he talked with Crawford about his new job, Montgomery had no idea the company also did heat treating.
The two men have known each other through industry connections for years. Montgomery described Crawford as an aggressive businessman who is also personable, with both production and leadership experience in the industry.
Montgomery said he has no doubt Contour will meet its growth goals. "With Ben running the place, it'll happen. I'm sure of it."•
Please enable JavaScript to view this content.