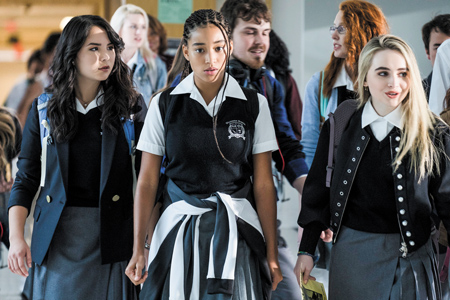 Whether you are escaping to the cinema or kicking back in front of your home screen, the moviegoing experience is still dependent on the film you select to spend quality time with. And this year, a wide range of movies rose above the average.
Here's a rundown on some of the best of the year (with the understanding that some holiday releases, including "Mary Poppins Returns," weren't available for press screening and a few, including "BlacKkKlansman" are still on my to-watch list).
Serious and semi-serious business
William Dafoe is Vincent Van Gogh in "At Eternity's Gate." (Photo courtesy of Lily Gavin)
Two of the strongest films put viewers in the hearts and minds of teens. "Eighth Grade" earns every one of its many cringe-inducing moments, making it the most harrowing film I've seen this year. Meanwhile, "The Hate U Give" offers a rich portrait of an interconnected world and the way a young woman attempts to manage both before and after a friend is shot by police.
Harrowing, too, is "First Reformed"—no surprise since it's the brainchild of Paul Schrader ("Taxi Driver"). Ethan Hawke plays a priest downgraded to working at a historic church and wrestling with his beliefs. Not for the weak of stomach. With a conventional plot but unconventional style, the crime thriller "Searching" takes place entirely on a computer screen. What initially might seem like a gimmick ends up fueling the tension. There's a crime key to the plot, too, in "If Beale Street Could Talk," but this sterling adaptation of James Baldwin's novel about a pregnant young woman and her falsely imprisoned boyfriend is really about love and family.
Family is also key to "Shoplifters," where the blood ties are non-existent but the loyalty strong among a clan of petty criminals, and "Leave No Trace," a coming-of-age story about a young woman living in the wilderness with her father but yearning for a life more connected to civilization. And for beauty in every frame, there's Alfonso Cuaron's "Roma," an intimate epic about a housekeeper and the Mexico City family she takes care of in the mid-1970s.
Strong lead performances highlight "The Wife" and "Can You Ever Forgive Me?" both of which deal with literary deception. Glenn Close's performance in the former helped balance out less-interesting flashbacks in the fictional story of a woman who penned her husband's acclaimed novels. In the latter, Melissa McCarthy transformed into a true-life forger of letters from notable scribes.
For what-the-heck-is-going-to-happen-next laughs and chills, "Sorry to Bother You" starts with what seems like an obvious comedic premise—the challenge of working at a phone-solicitation sweatshop. But it soon transmutes into, well, discover it for yourself. And I'd be remiss if I didn't note the crowd-pleasing pleasures of "A Star is Born," even if the first half is stronger than the second.
True-ish stories
"Bohemian Rhapsody" plays fast and loose with the facts—especially the timeline in the final third of the film—but what a kick to see Rami Malek own the part of Freddie Mercury. And what a smart, gutsy move to offer Queen's entire Live Aid set as the climax of the film (made more dramatic by the aforementioned fact-juggling). The lower-key screen biography "Stan & Ollie" also tinkers with the truth while still telling a show-biz tale—in this case, the later years of Laurel and Hardy, once they stopped being big box office. Steve Coogan and John C. Reilly shine.
For a bolder directorial vision, check out "At Eternity's Gate," a surprisingly strong—and beautifully shot—look at Vincent van Gogh (Willem Dafoe) that goes deeper into the creative mindset than most artist bio films.
Rami Malek stars as Freddie Mercury in "Bohemian Rhapsody." (Photo courtesy of Twentieth Century Fox)
And moviegoers might be burned out on real-life politics, but "The Front Runner" proved a smart, multi-sided look at the downfall of presidential candidate Gary Hart (Hugh Jackman) while "Vice" took a more gonzo, agenda-ed approach to a divisive figure, Dick Cheney (Christian Bale), from the other side of the aisle.
Popcorn pile
Two of the biggest cinematic crowd-pleasers were also groundbreakers. "Black Panther" proved that a black superhero could not only find an audience, but anchor a better movie than most of his caped and cowled cohorts. And the slick "Crazy Rich Asians" made clear that light romantic comedies need not automatically be populated by Caucasians.
One of the most delightful family films of recent years, "Paddington," generated an equally delightful sequel, "Paddington 2." And what could have been a good-enough adventure comedy turned out to be a better-than-good-enough hoot in "Game Night." And when you hear that "Support the Girls" is set in a Hooters-like restaurant called Double Whammies, you might assume "wild comedy." But Regina Hall anchors a warm, winning ensemble comedy about real-world characters not often seen in a non-stereotypical way at the center of movies.•
Please enable JavaScript to view this content.