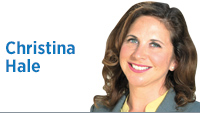 Recently, I have heard the excuse that the Legislature can't possibly work on a hate-crimes bill this year, as there is no consensus on the issue and the mere effort will shut down most other work of significance.
Why is that?
We need a hate-crimes law. We also need to address our failing water infrastructure, the ongoing addiction crisis, wage disparity, educational success, support for teachers and so many other problems of various degrees of urgency and importance. As time passes, most of our problems will only become more expensive to address in terms of both fiscal resources and human impact.
As we launch the Legislature's 121st regular session, I encourage the veteran members to remember what a privilege it is to serve as a citizen legislator. Please look at the smiling and ambitious faces of new members and remember your first year of service.
If you take time to roam the halls of our Statehouse, you very likely will hear griping in the elevators of people who have served a number of years and have soured on this special opportunity to help people in significant ways. But this isn't just any job. It comes with a heady responsibility, for what is at stake is nothing less than family and the future.
In my experience, Republicans and Democrats are united in a goal of supporting healthy, thriving families. They can sharply disagree on how to best achieve that goal, and those disagreements can get fairly ugly and personal. Several friends have told me about their experience during right-to-work debate. I heard stories of long-standing bipartisan friendships that shattered, and of lawmakers crying themselves to sleep.
The truth is, when a legislator feels like a martyr to the process, that person should either step aside or work intentionally to rediscover the inspiration to serve. Over time, enthusiasm can curdle, and far too many legislators trudge through the halls of our beautiful capitol acting as though they are being sent to the gulag for a few months. The unintended but real consequence of this attitude affects the quality of work and the results Hoosiers see from our Legislature.
If this happens to be you, please just get over yourself. This is your annual chance to set the world on fire with your heart and acumen. The people of Indiana deserve your best effort.
The chairs of committees are particularly empowered to get things done. They set the agenda and the pace of work for the sometimes hundreds of bills assigned to them. There are a lot of good ideas out there. Let's hear more of them! Get creative and practice good time management. Meet in the evening instead of taking in that Pacers game. Make people sit up and take notice that you are stepping up your game and they had better keep up with you and with their homework.
It doesn't take much sweat to work a little harder, hear a few extra bills, and put in a few more hours of research and discussion. Of course, it feels good to have a little fun and feel a little important at the many evening events and receptions, but not nearly as good as the feeling when you know you have achieved something significant.
Legislators, feel the inspiration of the holidays and take these next few days to prepare your bills and your attitude as well. What will be your greatest session accomplishment? Hoosiers, what do you want to see done this session?
We need some wins in Indiana. The chance to make them happen is almost here. Get ready, 121st General Assembly, and go for it.•
Click here for more Forefront columns.
__________
Hale is a former member of the Indiana House and ran for lieutenant governor in 2016 on the Democratic ticket. Send comments to [email protected]
Please enable JavaScript to view this content.