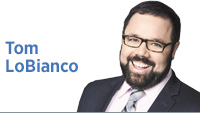 Following last month's national results, the question now for Democrats and Republicans is: How do you move forward?
It's taken quite a while, and the trickling results sure seem anticlimactic, but 2018 certainly turned out to be a wave for the Democrats.
Adding 40 seats in the U.S. House (almost 10 percent of the chamber) with a national voting margin of close to 9 million votes is hard to argue with. And 2018 ended up carrying some of the telltale signs of high water, specifically lifting more Democratic boats just above the threshold in places like California and New Jersey.
The last big washout like this was two years into Barack Obama's first term, when Republicans picked up an astounding 63 seats. The election in 2002 proved to be an exception to the tradition of waves in midterms, falling a little more than a year after the 9/11 terrorist attacks. But the 2006 midterms saw Democrats win back the House. And 1994, two years into Bill Clinton's first term, marked the Gingrich Revolution, which led to a fundamental realigning of Congress.
The "spoils" for the victors have often become clear in hindsight: Democrats lost substantial majorities in 2010 after pushing for sweeping health care and climate-change measures at the same time. Republicans led the march into the Iraq War with a rationale rooted in 9/11, but four years later, the public backlash handed the House to Democrats.
Meanwhile, losing has generally led to major improvements. House Democrats retooled mightily after the 2016 election, even dropping some campaign vendors who hadn't been performing well. And after Obama coasted to a second term in 2012, Republicans commissioned their now-famous (in political circles) "autopsy," which recommended better outreach to minorities.
(Donald Trump's upset victory seemed to be a resounding rebuttal of the "autopsy," but 2018's voter turnout demographics sure seem to indicate that Republicans need more 2012-style retrospection and less Trumpy braggadocio.)
Among the House Republicans, however, there seems to have been little introspection, despite losing the House again, eight years after retaking it from Democrats. (This control-swapping is starting to look like some of the old ping-pong matches between Brian Bosma and Pat Bauer of more than a decade ago in the Indiana House.)
That was the order on a recent panel at the Republican Governors Association, which included Maryland Gov. Larry Hogan. Early in his 2018 contest, he reached out to a whiz in the polling field (and familiar Hoosier), Christine Matthews. She formed a focus group of undecided female voters, and their responses throughout the campaign helped insulate Hogan from the fallout other Republicans suffered.
For the Democrats, look at where the Obama-era intelligentsia landed: at the national redistricting effort led by Obama Attorney General Eric Holder. And what was House Minority Leader Nancy Pelosi doing at the National Governors Association 2017 winter meeting? Helping them target races based on who would be writing the new congressional maps in 2020, of course.
And the Democrats did pretty well in the governor's races, after a decade of drubbings. But it could be argued the Republicans did better for their ability to stave off the wave in key executive races.
Much of the post-wave fallout is focused on Republicans now, because they got beaten soundly this go-round, and some introspection would likely help them in a big way. But the better question might be placed with Democrats, even as they're basking in the glow: How do you see past a victory?•
Click here for more Forefront columns.
__________
LoBianco was a political reporter for The Indianapolis Star, CNN and The Associated Press and is currently writing a book on Mike Pence.Send comments to [email protected]
Please enable JavaScript to view this content.