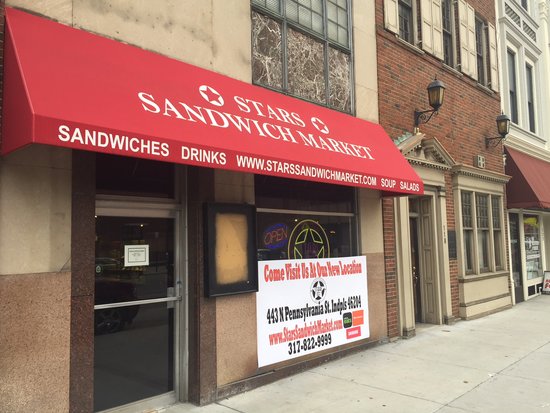 Long-standing local eatery Star Sandwich Market, which was acquired by new owners in May, is moving to a new downtown location over the weekend and plans to expand its menu offerings in the months to come.
Friday will be the last day of operation at its current location, 116 N. Delaware St., where it opened more than two decades ago.
It will reopen at 7 a.m. Monday at 443 N. Pennsylvania St. in a 1,500-square-foot space that most recently housed Mile Square Bistro, and, before that, City Cafe.
The husband-and-wife team of Terry and Tennille Anthony, who acquired Stars in May from Evan Moss, plan to retain the eatery's grab-and-go sandwich selection while adding more menu items. The new location has a full kitchen that help the owners prepare more hot dining options other than soup. 
The menu transition will happen in the spring of 2019.
Because the menu is changing, the restaurant's name is changing to Stars.
"We're going to move away from being just a sandwich shop," Terry Anthony told IBJ.
The Anthonys, who also own and operate the Subway restaurant at the corner of Delaware and Market streets, originally purchased Stars Sandwich Market with the intent of closing the business and moving their Subway into the 1,100-square-foot space.
But their plans changed for a couple of reasons.
For one thing, the Anthonys discovered Star Sandwich Market's loyal customer base.
"In the midst of doing that, we realized how big a part of the community Stars was," Terry Anthony said.
Another factor was that the Anthonys were not able to move their Subway into the Delaware Street location as planned.
Terry Anthony said the building's owner did not want Subway as a tenant, and as a result the owner tripled the rent.
"We couldn't get together on a dollar amount," Terry Anthony said.
The dispute ended up in court, and as a result the Anthonys agreed to vacate the Delaware Street property.
"The parties were able to split amicably," Terry Anthony said.
Meanwhile, the Anthonys intend to keep their existing Subway restaurant up and running.
Star Sandwich Market was founded in 1997 by sisters Libby Spalding and Kathy Keeling, daughters of local restaurateur Mike Spalding. Spalding's local restaurants included the now-61-year-old Mousetrap Bar & Grill and Cafe Santa Fe, along with 10-01 food & drink in Broad Ripple.
The sisters sold Stars to Chris Duffy in 2006, Terry Anthony said, and in 2017, Duffy sold it to Moss. Duffy remained active with the business until shortly after the Anthonys acquired it.
Please enable JavaScript to view this content.