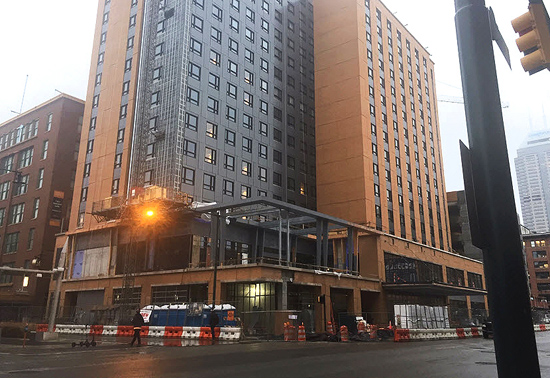 A new seafood restaurant is among several tenants slated for the retail portion of the dual-branded Hyatt Hotel being built across the street from Bankers Life Fieldhouse in downtown Indianapolis. The restaurant operator also is planning to open a second location at the Yard in Fishers District.
Pier 48 Fish House & Oyster Bar has signed a lease for 6,577-square-foot space connected to the 316-room Hyatt Place/Hyatt House hotel under construction along South Pennsylvania Street. The restaurant is scheduled to open in spring 2019.
The seafood restaurant will occupy a ground-floor space at the northwest corner of Pennsylvania and Georgia streets and will have an exterior entrance at the corner and an interior entrance into the hotel lobby.
Gary Perel, principal of Indianapolis-based ALO Property Group, which is handling leasing for the project, said Pier 48 is among four businesses that agreed to lease retail space in the hotel and the adjoining parking garage.
Other tenants will be a yet-to-named restaurant, a casual apparel shop and calzone restaurant Sauce on the Side.
Pier 48 is a restaurant concept by Fred Knipscheer, CEO of Carmel-based FK Restaurant Group LLC. Knipscheer, a former National Hockey League player, was previously managing partner of Salt on Mass in Indianapolis and Prime 47 Steakhouse in Carmel.
Knipscheer said he developed the concept earlier this year on behalf of three local owners, who he declined to name. He said Pier 48 will be a mix of fine and casual dining with an extensive bar featuring craft beers, wines and liquor.
The main dining and bar areas will seat about 200 to 225 people, with an additional space for groups of up to 48 people.
Pier 48 will receive fresh, daily shipments of fish and other seafood directly from Maine, supplied by members of Knipscheer's family who are professional fishermen and lobstermen, he said.
Knipscheer said Pier 48 is set to open a second location in the Yard at Fishers District in late 2019 or early 2020. The 5,000-square-foot eatery will be similar to the downtown location but more casual and family-friendly, he said.
The downtown restaurant will face nearby competition in the seafood category from Oceanaire Seafood Room, an upscale eatery at 30 S. Meridian owned by Houston-based Landry's Inc. that opened in 2003.
To the north of the hotel's lobby will be Sauce on the Side, a calzone restaurant founded in St. Louis in 2012. IBJ reported Dec. 6 that Sauce on the Side planned to open a location in the hotel complex and another one in Carmel.
Sauce on the Side will have entrances from the lobby and one on Pennsylvania Street. The restaurant is expected to be about 3,200 square feet.
Perel said he thinks Sauce on the Side will help create and benefit from foot traffic along Chesapeake Street, an alley that runs east and west between the hotel and parking garage from Meridian Street to Pennsylvania Street. The alley emerges across from Circle Centre mall on Meridian and across from Bankers Life Fieldhouse on Pennsylvania.
The unnamed third restaurant is slated to lease a 1,500-square-foot space in the 382-space parking garage being built directly north of the hotel. Perel said he couldn't yet disclose the name, but described it as a sandwich shop.
A second, smaller space in the parking structure will be occupied by a third location for The Shop, a Broad Ripple-based T-shirt and casual apparel company. The store will occupy about 1,000 square feet.
Please enable JavaScript to view this content.