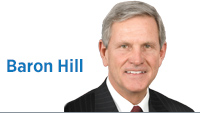 Joe Donnelly and I came to congress together in 2006. He, for the first time. I, for a second round. It didn't take long for us to become good friends. Joe is pure Hoosier. Not a headliner member of Congress. But a head-down, serious, let's-get-things-done kind of guy. I believe that's what Hoosiers expect from their elected officials. And that's what they got from Joe first as a member of the House of Representatives and then for six years as their U.S. senator.
Political campaigns sometimes create a different reality of a person running for office. There is an old political quote that goes like this: "If I believed everything my opponent was saying about me, I would vote against me too." I'm not going to rehash everything that was said about Joe in this last campaign. You don't want to read about it, and I don't want to write about it. I'll only say this: I know Joe Donnelly. Joe Donnelly is a friend of mine. That wasn't the Joe Donnelly I know on those negative television ads that ran in this last election. And you should know that wasn't the senator you had for the last six years.
A little background on the man may be of interest to you. His mother died when he was 10 years old. He was raised by his father. He graduated from the University of Notre Dame with a bachelor of arts degree in government in 1977. And I can say without hesitation that he is a crazy Notre Dame football supporter.
Joe met his wife, Jill, while attending Notre Dame and they married in 1979. They have two children and they live in Granger, just northeast of South Bend. In 1981, Joe earned his law degree from Notre Dame. He practiced at the law firm Nemeth Feeney and Masters (now Nemeth, Feeney, Masters & Campiti P.C.) until 1996. He began his political career on the Indiana State Election Board from 1997 to 2001. He was on the Mishawaka Marian School board, serving as its president from 2000 to 2001. In 2004, he was the Democratic candidate for Congress, losing to Republican incumbent Chris Chocola. In 2006, he challenged Chocola again, and this time won the election with 54 percent of the vote.
The biography of Joe, as you can see, is impressive. But what is more impressive is the character of the man. He takes things seriously but doesn't take himself too seriously. Always ready with a hearty laugh, he is the kind of guy you are comfortable having a beer with. Always empathetic to other people's needs. A great husband, father and friend. The people of Indiana had a senator who always listened and cared—two values that are a must for good representation. Joe was rock solid on these two.
I remember when we were in the thick of intense debate on the Affordable Care Act. The politically easy thing to do at that time would have been to vote against it. But I remember Joe saying that the legislation was too important to the lives of thousands of Hoosiers and millions of Americans. He voted for it. That's called leadership.
The U.S. Senate needs people like Joe Donnelly. A bipartisan, reach-out-to-everyone, respecting-divergent-points-of-view, kind of guy. Thank you for your service, senator.•
__________
Hill is a Democrat and former congressman from the 9th District in Southern Indiana. Send comments to ibjedit@ibj.com.
Please enable JavaScript to view this content.