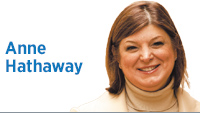 Like many of you I was sad to learn of the death of President George Herbert Walker Bush. On a very personal level, I understand the pain and sadness of President George W. Bush and the rest of the Bush family losing both parents, the patriarch and matriarch of the family, in the same year. I lost my parents 74 days apart in 2016. While there is the comfort knowing that they are together in heaven, those of us who remain on Earth have painful holes in our hearts that don't feel like they will ever heal.
While expressing my sadness to a friend and long-time staffer of Bush "41," he reminded me that while it was OK to be sad, it was also a time to be joyful. Joyful for the full, successful and happy lives that the president and Mrs. Bush had lived and joyful for the opportunity that we had had to work with and for the president, our country and to appreciate all the friends that we had made along the way. That got me to thinking and remembering.
I owe much of my career to President Bush, James A. Baker III, and Vice President Dan Quayle and his wife, Marilyn. When I was fresh out of college, I went to work on a congressional race in my home state of Illinois. We lost. My candidate announced that he would run again two years later, so I stuck around and worked on that race, which we also lost. At that point, with nothing left to lose, four of us packed up the car and drove to Washington, D.C., to look for jobs. I was fortunate enough to be connected to a friend of a friend of a friend of a friend (seriously) who knew someone who needed an assistant. I was hired as a GS-4 clerk typist at the U.S. Treasury Department's office of public liaison. My second day of work was the day that Mr. Baker became U.S. Treasury secretary and ultimately my boss. I was fortunate to work for one of his top lieutenants, Margaret Tutwiler, and got a terrific and sometimes terrifying education about hard work, discipline, teamwork, loyalty and commitment. When Secretary Baker was asked to become campaign manager of his pal George H.W Bush's presidential campaign, I was one of a small team from the Treasury Department that went to the Bush/Quayle campaign to work.
At Bush/Quayle '88, I was assigned to the vice presidential candidate's staff and ultimately became campaign scheduler for Marilyn Quayle. After winning the election, I was fortunate to work at the White House in the Office of the Vice President for the Bush/Quayle administration for four years. I won't lie. Losing our bid for re-election and walking out of the White House on January 20, 1992, was very difficult. But I was lucky; the experience and opportunity gave me a strong base for the rest of my career, and perhaps most importantly, it provided me a network of friends and alliances from across the country.
As I watched the news and the funeral proceedings honoring President Bush on TV, I caught glimpses of so many friends and former colleagues. On social media, I read their tributes, saw their pictures and found solace in their memories. Those were steps for all of us in celebrating the president and healing the painful holes in our hearts.
Thank you, Mr. President, for your service, but more importantly, thank you for giving me a start and inspiring so many of us to pursue our dreams.•
Click here for more Forefront columns.
__________
Hathaway is president and CEO of Hathaway Strategies, chairwoman of the Julian Center board and former chief of staff of the Republican National Committee. Send comments to [email protected]
Please enable JavaScript to view this content.