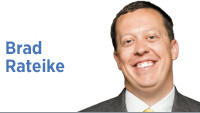 The passing of President George H.W. Bush was upsetting and bittersweet. He was beloved by so many Americans for the life he lived, and the respect shown in the countless tributes to his memory on cable news and social media was impressive. For those who had a personal or professional relationship with President GHWB, it was a chance to share their stories and photos, which confirm what the rest of us believed—that he was a good and decent man who cared deeply about his family and our America. For those of us who never knew him, these tributes remind us of his contributions to history and enable us to remember the better parts of ourselves during those times.
Reflecting on the life of President GHWB reminds me of the many things we should be thankful for but probably take for granted daily. President GHWB's military service, his role as a loving and caring father and the grace and humility with which he always conducted himself should be lessons for us all.
I am reminded of the eternal gratitude we owe the men and women who have put on the uniform and have served in our military. President GHWB volunteered to serve at age 18 when our country was at war, something most of us have not contemplated at any age. However, to this day, I am appreciative of my brother's continued service and all the men and women with whom he serves.
I am reminded that I should thank my parents more often for assuming the burden and responsibility in caring for the health, safety and well-being of three children. President GHWB was a father of six who tragically lost his first daughter when she was a young child to an illness beyond anyone's control. No one should have to endure that, yet he and his wife, Barbara, were model parents.
Finally, I am reminded of the importance of living one's life with grace and humility. For decades, stories have been published about the kind, handwritten, personal notes President GHWB would send to thank or encourage his friends, colleagues and those he had met, albeit briefly, in his professional life. President GHWB was too humble to know those notes would be cherished forever, but he knew that sending them was the right thing to do. He knew that if you have the chance to let someone know that they are valued or that you're thinking of them, you should tell that person. All class.
Beyond these personal lessons, I noticed the verbal and media "truce" that seemed to occur on cable news and social media during the weeklong celebration of President GHWB's life. Almost everyone seemed to holster their proverbial weapons and dial back any words of contempt. Those who may not have had anything nice to say said nothing at all. Even those who had disagreed with President GHWB were able to discuss that in a respectful manner. Labels weren't casually and irresponsibly tossed around. Judgement was withheld. For a week, we were able to be "for" something without feeling like we had to be "against" something or someone. I feel like that is what he would have wanted.
I will miss President GHWB and all he represented. It is my sincere hope that we can continue to honor him as "one of the greats" by holstering our weapons more often, showing gratitude to more people and leading lives of grace and humility. That's a legacy.•
Click here for more Forefront columns.
__________
Rateike is founder and owner of BAR Communications and served as director of cabinet communications for President Donald Trump. Send comments to ibjedit@ibj.com.
Please enable JavaScript to view this content.