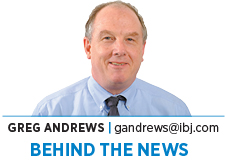 So much for the sweet run Indiana banks were on following the election of President Donald Trump two years ago.
Their big gains have evaporated in recent weeks, leaving the SPDR S&P Regional Banking ETF below where it was before the rally began 25 months ago. That's despite the fact that what the business community had hoped would play out under a Trump presidency—lower corporate taxes, a steadily improving economy and a reduced regulatory burden—has come to pass.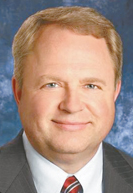 Renninger
The carnage has been sudden and widespread. Indiana banks generally are down more than 25 percent from the 52-week highs they hit this summer. The selloff has been more severe than that of the overall market, as measured by the S&P 500, which is 16.1 percent off its 52-week high.
It's a bit of a puzzlement to longtime banking observer Michael Renninger of the Carmel-based M&A and financial consulting firm Renninger & Associates. He said investors flipped the switch from being optimistic that strong earnings would continue to being pessimistic about everything from the inevitability of a U.S. recession to growing international trade disruptions and higher loan defaults.
"I am one of the people who follows bank stocks on a daily basis, and I am surprised by the market's punishment of bank stocks," he said.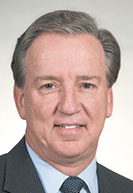 Rechin
While it's true that banks' performance will suffer if the country slides into a recession, Renninger said banks are far better positioned to weather a downturn this time around than they were during the financial crisis a decade ago. He said banks now operate more conservatively and have stronger earnings, loan quality and capital levels.
Even so, don't expect bank stocks to surge back anytime soon, according to a Dec. 12 report from Keefe Bruyette & Woods, an investment firm specializing in the sector.
"As we look at 2019, we do not see enough positive catalysts emerging—besides the group simply having a discounted valuation—that could move the group higher," Keefe analyst Brian Kleinhanzl said in a report.
Mike Rechin, CEO of Muncie-based First Merchants Corp., said the bank recently wrapped up its financial plan for 2019.
"It leans more toward the 2018 operating environment, rather than a recessionary environment," Rechin said.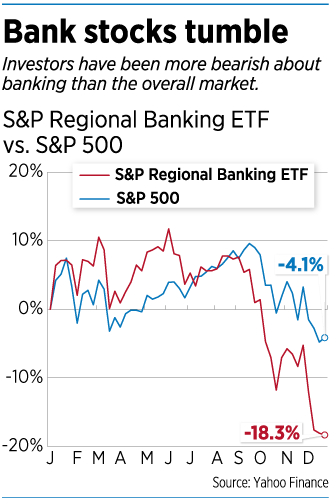 He added: "We remain optimistic. Our clients are doing very well."
In October conference calls discussing third-quarter results, Hoosier bank executives struck a similarly upbeat tone.
"Activity is good," said Bob Jones, CEO of Evansville-based Old National Bancorp, the largest financial institution based in the state. "We just had all of our commercial relationship managers together the week before last in Indianapolis, and the attitude, morale was excellent. They're busy."
David Becker, CEO of Indianapolis-based First Internet Bancorp, added: "We believe we are well-positioned to flourish within the digital banking ecosystem, which is still in the early stages of a powerful secular trend."
Shares of all three banks have been banged up since the sector lost favor. First Internet has taken the biggest hit, leaving its stock 53 percent off its 52-week high. First Merchants shares have declined 32 percent from their 52-week high and Old Old National shares have shed 28 percent.
A close parsing of the conference calls shows even bullish banking execs aren't wearing rose-colored glasses.
One challenge is that customers are beginning to demand higher interest rates on their deposits—one of the sources of funds banks use to make loans.
On the Old National call, Jones said: "The deposit pressure is really in the larger markets like Indianapolis that have been just hyper-competitive."
Jones said he feels comfortable with Old National's lending standards, but he couldn't say the same for some competitors, especially in commercial real estate loans, a sector that overheated before the last recession.
"There is a little bit of stupidity creeping back into the market, particularly on non-owner-occupied [commercial real estate]," he said on the call.•
Please enable JavaScript to view this content.