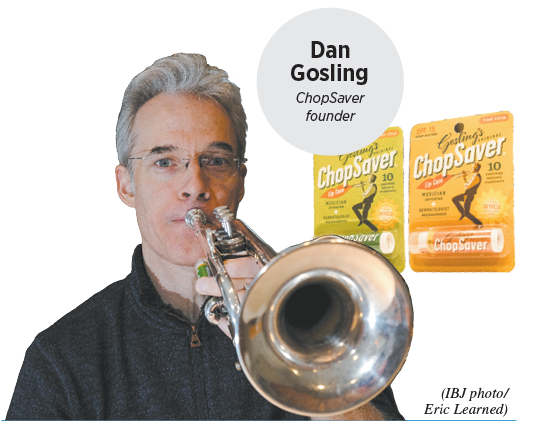 It's one of the most imaginative product pitches for an Indianapolis startup. In an 82-second video, professional trumpet player and entrepreneur Dan Gosling stands in his Indianapolis back yard and expertly catches one flying musical instrument after another, from flute to trombone, tossed to him by someone off camera. Then he explains his product—a lemony-scented lip balm for musicians called ChopSaver—by catching a series of flying ingredients, from shea butter to avocado oil.
Gosling, 56, invented ChopSaver in his kitchen in 2004 and has sold about 700,000 sticks, but he is still looking for fresh ways to promote it. Meanwhile, the video has garnered more than 1 million views on the ChopSaver website and YouTube.
How did you come up with the idea to explain ChopSaver with flying instruments and ingredients?
The idea for a video came to me when I was mowing the lawn last summer, but I'm not sure now where the idea of flying instruments came from. My son is a film and media major at [Indiana University] and my nephew is very good at sound editing. We had to practice that for a couple of weeks in the back yard. It was a lot of fun.
What's the story of ChopSaver?
I wanted to develop an all-natural lip moisturizer for musicians. I made the formula in our kitchen. I run the company out of a two-room office right off the kitchen. We have a manufacturer in Cedar Rapids, Iowa, that makes the product.
Is your product formula a big secret, like the Coca-Cola formula?
Actually, it is. It's patented. It's a trade secret. You can see all the ingredients on the package and on our website, because we're very proud of it. It's a natural product. The essence of the formula I came up with in my kitchen. The only difference is, to put it in stick form, we added some organic waxes to it. But in terms of how it's made, temperatures that are used, machinery that's used, it's a secret.
Where can I buy ChopSaver?
You can get it on ChopSaver.com, Amazon.com, Walmart.com and at band-instrument stores.
What's harder: playing the "Carnival of Venice" on the trumpet, with all that triple-tonguing, or starting a lip-balm company?
There is something about playing a trumpet that is like being an athlete. There are physical demands you have to maintain. When those start to slip, people can hear it and it can affect your reputation. If I have a bad day at the lip-balm office, hardly anyone will notice.
I thought you were going to say you could play the trumpet in your sleep, and that starting a company was much harder.
No. The older you get as a musician, especially with a brass instrument, you have to work harder. Doc Severinsen is 91 years old, but he still practices three or four hours a day. The trumpet is a real beast. It's a real unforgiving instrument. You're training small muscles on your face and it goes away very quickly if you don't keep paying attention to it.•
Please enable JavaScript to view this content.