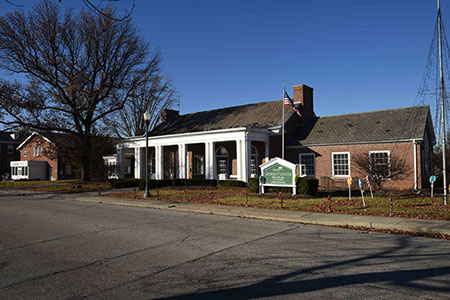 With a $5.85 million Lilly Endowment Inc. grant clinched, the city of Lawrence and not-for-profit Arts for Lawrence are poised to launch a major economic development project focused on the arts and the area's military history.
Plans for the Fort Harrison Cultural Campus, to be developed at Otis Avenue and Post Road, include new performance and visual-arts spaces, interactive play areas and a history-focused augmented-reality app.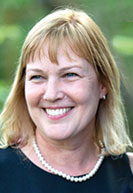 Byron
"This is something Arts for Lawrence has been looking at doing for a long time, but we thought it would take 10, 20, 30 years to do this," said Judy Byron, the group's executive director. "There are things that we will start working on in January."
The concept, organizers say, is to build something that provides a better venue for existing arts programming, helps attract visitors, and boosts Lawrence's profile beyond "suburb" status.
"It's just an idea of making Lawrence a destination rather than just a pass-through," said Mayor Steve Collier. "We have a bit of an identity crisis."
The city has a lot of history within its borders.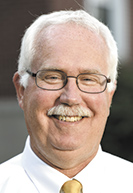 Collier
Lawrence's city limits encompass the former Fort Benjamin Harrison, a U.S. Army base established in 1906. When the 2,500-acre base closed in 1995, the state of Indiana acquired 1,700 acres to create Fort Harrison State Park.
The federal government kept about 10 percent of the fort's land, and still maintains a major accounting and finance center in the Emmett J. Bean Federal Center on East 56th Street. But under the Fort Harrison Reuse Authority, much of the remaining acreage has been developed into private homes, offices and retail space, repurposing many of the original fort structures and creating a new downtown for Lawrence.
The state park and its golf course already attract out-of-towners who stay in the park's inn and other nearby lodging, Collier said. The cultural campus will give those visitors more to do while in town, while also giving local families another reason to visit.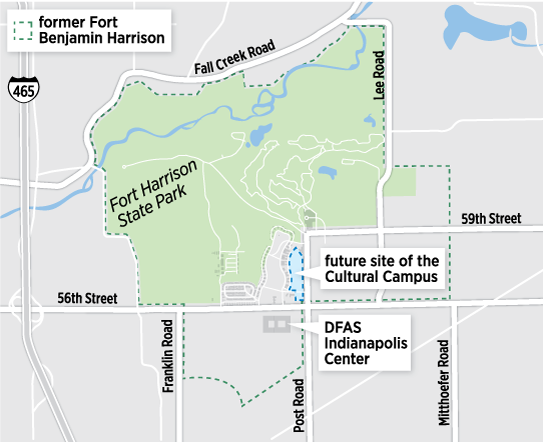 Additionally, Collier said, the city is trying to attract a boutique hotel to the Fort Harrison area. That hotel would not be part of the cultural campus, Collier said, but the project should help in those recruitment efforts.
Lilly Endowment funding will cover:
◗ Turning a 0.6-acre parking lot into an outdoor plaza with an amphitheater, seating and an all-ages playground-type art installation. Quebec-based design studio Daily Tous Les Jours will design this with input from local residents.
"They will talk to our community first, but they tend to build interactive spaces that get community members to interact with one another," Byron said. "They've done a lot of interesting things around the world."
As a way to build interest, Daily Tous Les Jours will bring a temporary exhibit of musical swings to Otis Avenue for four weeks in the spring. Each swing produces sound when in use, and melodies when groups of people swing in unison.
◗ Building hand-carved benches, an information kiosk and an augmented-reality app that showcases the history of Fort Harrison.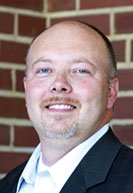 Corns
"The fort has such a rich history … but if you're just walking around by yourself, you don't have that history," said Jeff Corns, president of Schneider Geospatial, which will build the app.
Visitors who download the app can use their smartphones as viewfinders to superimpose historical information—perhaps photos, videos or narratives—onto the landscape. A user could, for instance, use the app to see what an existing building looked like when it was in military use decades ago.
Corns said his firm plans to build the app so Arts for Lawrence can add content over time. "This can be dynamic," he said. "It doesn't have to be fixed."
◗ Relocating the historic Fort Harrison communications building, which is currently not in use, and repurposing it as a visual-arts center. The center will offer space for gallery exhibits and programs.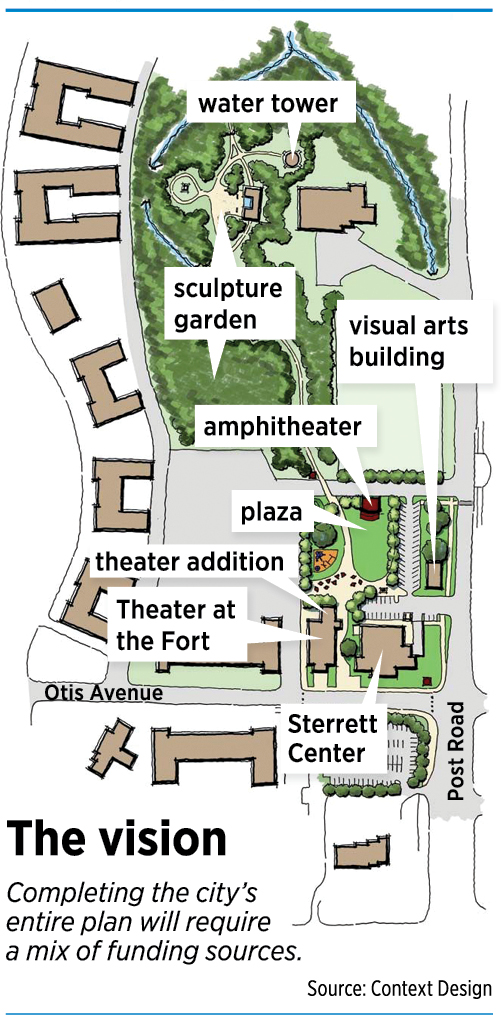 ◗ Making improvements to two city-owned properties: Theater at the Fort, which houses Arts for Lawrence, and the Sterrett Center, which serves as a parks and recreation facility.
◗ Expanding Theater at the Fort with a two-story, 1,600-square-foot space, including a lobby with interactive play features, public restrooms for use during outdoor events, and easier building access for those with disabilities.
The Lilly Endowment grant will fund capital improvements for the first five phases of the project, to be completed over the next four years.
It will be up to the city and Arts for Lawrence to find the additional funding for the sixth and seventh phases, which include turning Otis Street into a festival space that can be closed to traffic for special events and installing a sculpture garden on land the city plans to acquire from an adjacent business.
Estimated costs are $377,000 for the festival street and another $2.57 million for the sculpture garden, which will include a path connecting the cultural district to the state park.
Collier is confident those parts of the project will happen.
"We have five years to get those last two phases funded, so I'm not worried about that," he said.
The city of Lawrence was one of 18 grant recipients for the Lilly Endowment's Strengthening Indianapolis Through Arts and Cultural Innovation program.
The endowment awarded nearly $49 million in amounts ranging from $49,000 to $9.24 million. In all, the foundation received 226 applications for funding through the one-time initiative.
Lawrence's "idea stood out because it really did lift up exemplary ways that arts and culture can help a community get stronger," said Lilly Endowment spokeswoman Judith Cebula.
Lawrence is taking a page from the playbook of others that have used the arts and cultural amenities to boost their communities.
"It kind of gives us a chance to catch up to the cities around us," Collier said, citing Carmel, Fishers and Westfield as examples.
In Indianapolis, Byron said, Fountain Square and Mass Ave are two examples of neighborhoods with thriving cultural districts. "I think that we can have that here, too."
Looking even further afield, Byron cited The Presidio in San Francisco as another model. The Presidio, which was decommissioned after the Army vacated the base in 1994, is now part of the Golden Gate National Recreation Area and is home to the Walt Disney Family Museum, the Letterman Digital Arts Center and numerous other cultural and outdoor attractions.•
Please enable JavaScript to view this content.